From graduation to college
Former LHS students share their views on freshman year in college
He gazes around, wide eyed at the masses of new people. New classes. New experiences. New life. After years of small-town East Texas life, college is like nothing he could have ever imagined. He steeles up his nerves and gets ready for this new chapter.
With graduation quickly approaching, two Class Of 2014 seniors, Nikki O'Connor and Tyler Bukham, tell about their experiences as freshmen in college.
"College is such a different, more relaxed atmosphere than that of high school, it really catches you off guard," Burkham said. "You just can't get caught up in your freedom. I expected college to be hard, and I certainly was not wrong."
O'Connor received the Presidential Honors Scholarship to TJC and attended TJC her freshman year. She will transfer  to Wheaton College in Wheaton, Illinois during Fall 2015 to pursue a degree in Applied Health Sciences in order to become an Occupational or Physical Therapist.
"TJC was not at all what I expected it would be," O'Connor said. "Overall I had a great experience. I took honors classes, which provided me with the opportunity to experience some of the best professors and classes. I took a wide variety of courses to narrow down my interests and help determine my future major."
Burkham is attending Lamar University in Beaumont, Texas to obtain a bachelor's degree in Music Education. He hopes to get a master's in either music education or music performance, and teach music at the high school or college level.
"Depending on the courses I took, it had the ability to be more difficult than Coach Klein's class, but luckily he prepared me for what a real college courses are like," Burkham said. "The stress is real and it affects your daily life if you can't keep it in check. If you put in the time, you will reap the rewards."
O'Connor is the youngest child in her family. She believes seeing the way her older siblings handled college decisions helped her know what to do and what not to do.
"I have an older brother and sister, so I was lucky to have their help when making choices," O'Connor said. "They both shot high when it came to the colleges they attended and decisions they made while in college. Watching someone else make big, life-changing decisions gave me the confidence to give college my all."
Seniors regularly receive advice about college as they make decisions to move on to the next step in life.
"Neither high school nor other college students' stories will fully prepare you because everyone's experience with college or their idea of college will vary from person to person," O'Connor said. "For me, college is about saying 'yes' to more things and not underestimating yourself. To grow as an individual, it takes courage and a leap of faith."
View Comments (1)
About the Contributor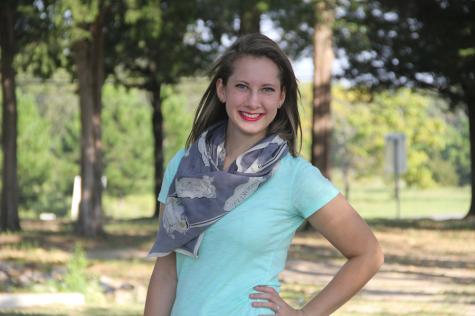 Lily Hering, Managing Editor
Lily Hering is a senior and the managing editor of The Eagle Eye. Lily is a state champion in UIL journalism, and she also participates in soccer, NHS,...