Tickets For Bingo Fundraiser On Sale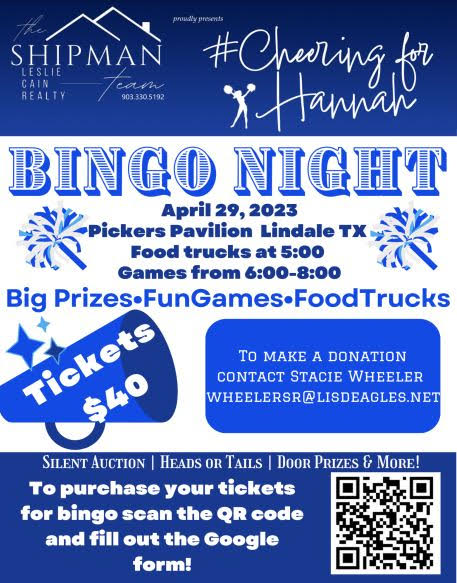 Tickets for the Cheering for Hannah Bingo fundraiser are on sale to help raise funds for senior Hannah Evans after a skiing accident. The event will be held on April 29 at Pickers Pavilion. 
"We are working with the Lindale community to bring the Cheering for Hannah Bingo Fundraiser event to life," Stacie Wheeler said. "We hope that we can help relieve some of the financial burdens from her family."
Tickets for bingo night are $40, and heads or tails and extra blackout cards are $20. Those interested in purchasing or donating should visit  https://forms.gle/UY2VmTRn2H1jGRY98.
"Having an accident like this is a scary experience for not just Hannah, but her family," senior Carly Alexander said. "I hope this fundraiser raises as much money as it can."
Shirts are also being sold to raise more funds, and those interested should visit https://forms.gle/uWrX3Edqu3SB3joNA. People are encouraged to wear their shirts the night of the event in support of Evans. 
"Hannah is always a joy to be around as she is always smiling and encouraging others," Wheeler said. "She has a tireless tenacity to be the best she can be in all areas, so we do this in hopes her family can focus on her recovery."
Food trucks will be open at 5 p.m., and games will occur from 6-8 p.m. All of the games will include a prize for the winner.
"I feel terrible for the Evan's family," senior Lauren Phillips said. "I hope that the we can come together as a community to raise money for a family that really needs it right now."
She is still currently in Colorado receiving treatment and therapy and hopes to return to school soon. She is top ten in her class and is involved in student council, cheer, National Honor Society, and the Texas Bank and Trust student board.
"Hannah has a servant's heart, a fighting spirit, and impeccable grit," Wheeler said. "She is an outstanding young lady, so we hope to relieve some financial burden."