Speaking out
Freshman advances to state in FFA creed speaking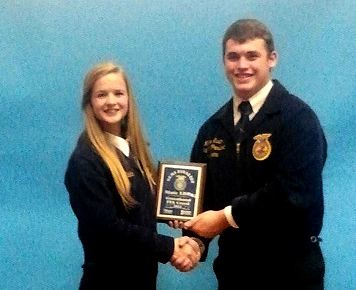 Freshman Ashlie Thompson competed December 5 at the Texas FFA State Greenhand Creed contest finishing in the top 20. The contest was held at Sam Houston State University.
"I was relieved and satisfied," Thompson said. "I had to keep reminding myself that no matter what happened in the room, it is all according to God's plan, and that is what helped most of all."
In the Greenhand Creed contest, first-year FFA members recite the creed for judges, who then ask them questions based off it. The contest is also a learning experience.
"One thing I learned in the creed contest is that winning isn't everything," Thompson said. "I've learned a lot about others and myself, and I hope that I've made an impact on other people's lives as they have on mine."
In order to advance to state, a member competes first at the district level, with top 3 advancing to the area level where the top 2 advance to state. Thompson was district champion and second at area.
"I am very proud of how Ashlie competed this year," ag teacher Stephen Hindman said. "Every competition she went to she placed very well in. I see a great public speaker coming from Ashlie for this upcoming year."