Featured Faces: Katelyn Lay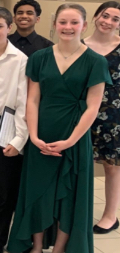 Name: Katelyn lay
Grade: 9th
Extracurriculars: Art, FFA, and soccer maybe volleyball
What I enjoy doing: Going to church and just hanging out with my friends.
What makes me unique: I sang in the choir with mr. baham and I got a one in competition which Is the best you can get.
Talents: In choir I was a soprano and I can draw.
Future plans: Becoming a veterinarian 
What's on my TV: I have outer banks, riverdale, lock and key, and the summer I turned pretty.
What I drive: I don't drive yet but when I get my license I want to drive a Ford F-250 that's lifted and is white all white.
Favorite movies: The notebook, titanic, tangled, and all of the monster inc.'s
Favorite music: Country I love country but my favorite singers right now are Gabby Barrett and Kidd g.
Favorite website or social media: Snap or insta.
Superstitions/Phobias: I don't really have any
Worst habit: Singing out loud
I would love to trade places for a day with: My best friend who lives in Dallas. Her name is Mackenzie.
First job: Wingdingers or jojos ice cream
Favorite meal: Steak, baked potato, and a salad with Italian
Favorite drink: Dr Pepper or raspberry açaí green tea Celsius.
Talent I would most like to have: Being a professional chef
Favorite celebrity: Billie eilish or kidd g
My hero: I don't have a hero
Hobbies or interests: I love coloring and hanging out with my friends