Featured Faces: Madeline Chilek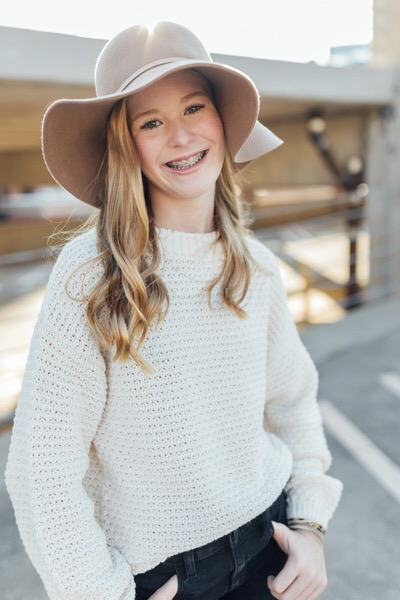 Name: Madeline Chilek
Grade: 9th
Extracurriculars: I am involved in tennis, student council, FCA, and pep squad.
What I enjoy doing: I enjoy playing tennis on the weekends. I help teach 2nd grade Sunday school at my church and attend youth group at Grace. I also enjoy being outdoors; helping my parents work on our land.
What makes me unique: I am outgoing and have a positive outlook on life.
Talents: My talents are playing tennis and dancing.
Future plans: I want to play tennis at A&M or The University of Texas earning a degree in Aerospace Engineering then get a job at NASA. When I get older I want to raise a God loving family.
What's on my TV: Anything Disney
What I drive: I don't drive yet but I want to drive a Chevy Silverado.
Favorite movies: Like I said before any Disney movie.
Favorite music: Country or Christian
Favorite website or social media: I am not allowed to have social media.
Superstitions/Phobias: None
Worst habit: Over analyzing things.
I would love to trade places for a day with: My grandpa because he gets to chill at home and go to all of the family's activities.
First job: Working First Monday with my dad.
Favorite meal: My mom's homemade BBQ sliders and Brian's cheesecake!
Favorite drink: Sweet tea, Powerade, and lemonade.
Talent I would most like to have: Being good at singing.
Favorite celebrity: Coco Gauff
My hero: My grandma is my hero because she did a lot for our family and she was the glue holding our whole family together. She also did a lot for the schools that she taught at. Overall she was a selfless person and was someone who I looked up to.
Hobbies or interests: God, tennis, and dance.