Teachers recognized at all-district luncheon
District employees kicked off the new school year with an all-district luncheon at the LHS cafeteria Aug 22. Teachers and staff members from across the district were recognized for their contributions from the 2013-2014 year.
"It is just a great statement of what Lindale's all about," high school Dean of Students, Bryan Mendez said.
Duane Walton, high school science and engineering teacher, received LISD's highest honor, the 2014 Kinzie award, for his contributions to students and for his creative and interesting classes that take learning to a higher level.
"It is an incredible honor and incredibly humbling," Walton said. "There are so many great people and educators in this district. To be selected was really an honor."
Sally Clemmons, high school health sciences teacher, received the Brookshire's Teacher-of-the-Year award. Clemmons is known for her real-world relevant classes and her use of technology in the classroom.
"There's so many great teachers at LHS," Clemmons said. "I am appreciative, and hopefully it will motivate me to strive harder to be the best teacher I can be. My plans for the class are to continue to use more technology and make the kids think outside the box."
Numerous teachers and staff members were recognized for their years of service and other contributions to the district. The Lindale ISD Education Foundation gave away $500.00 each to the Elementary Teacher of the Year, Whitney Crews, and the Secondary Teacher of the Year, Jenny Dutton.
"Having the phenomenal teachers we have at the elementaries and our middle school and then being able to replicate that at the high school shows why Lindale is the undisputed best district around and why kids love coming to Lindale," Mendez said.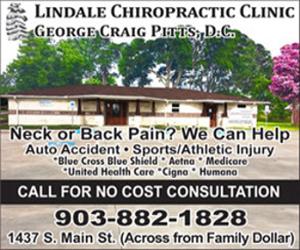 Leave a Comment