Students to Participate at CountryFest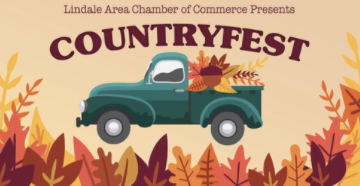 Students from the high school will participate at this year's CountryFest on Oct. 9. The CountryFest has been held annually since 1984 and offers multiple family friendly activities as well as booths to buy products.
"After last year's disappointing cancellation, we are back and bringing more family fun to downtown Lindale,"  Shelbie Glover, director of the Lindale Chamber of Commerce, said. "CountryFest is a chance for the Lindale Chamber to spotlight family friendly entertainment all day in downtown Lindale and show the true meaning of 'Good Country Living'."
The drill team will be operating a face painting booth. There, kids can request to have a variety of different styles painted on their face.
          "I'm so excited to run the face painting booth," junior Kerrigan Pierce said. "I love making the little kids happy, and I'm glad to be able to contribute positively to the community."
          Senior Valerie Adams will be hosting a booth where she sells acrylic pour art pieces. Her business is named "Val's Pours," and she will be stationed at booth 81.
          "I've had issues getting my work out there because of the abstractness of it," Adams said. "These events allow me to get my name out among the community and show them what I can do."
          The Art club will participate in a booth that promotes the Teachers Credit Union (CTCU), and they will be located at the CTCU storefront by Wing Dingers. CTCU sponsored supplies for the children who will create a pumpkin using pipe cleaners and pony beads at the booth. The kids get to make the project and take it home.
"We are excited to be able to help bring arts to the community in a way that kids get the chance to make and take a project home," Art Club sponsor Rebecca Harrison said. "Hopefully our students will be able to inspire kids to look at sculpture in a more approachable way."