UIL Heads to State After Big Regionals Win
      The UIL academic teams competed Saturday, April 17 at the regionals competition. Multiple students qualified for state and Lindale received first overall with many individual and team medals.
           "I am just so unbelievably proud of our coaches and students," UIL coordinator Rory McKenzie said. "Lindale has not had a regionals like this in quite some time.  This year has been a beatdown in so many ways and it is just so hopeful to see how our students and teachers are responding."
      In Region 2, Lindale came out with 366 points. The second place school, Spring Hill, earned 174 points.
     "I am very eager to be competing at the state competition," senior Ferris Turney. "Mine and my team's hard work will hopefully pay off, and I'm very hopeful for our academic teams."
     In Region 1, Argyle was first with 546 points, in Region 3, Salado with 281, and in Region 4, Needville with 246 points. They will all compete with Lindale at the state meet, which is being held at 26 different hubs around the state on May 1.
"I'm hopeful that we will put our best effort towards an overall state championship," McKenzie said. "Our coaches and students are hungry."
Regional Results:
1st Current Events Team (Zach Jones, Aden Ramsey, Gavin James, Jakob Davenport)
4th Current Events – Zach Jones
1st Computer Applications – Zach Jones
5th Computer Applications – Kaylee Kelley
5th Spelling – Abigail Alexandris
1st Copy Editing – Vivi Lehman
2nd Computer Science Team (Blake Reeves, Noah Sullivan, Kamryn Brooks, Rex Day)
3rd Computer Science – Blake Reeves
2nd Editorial Writing – Vivi Lehman
2nd Feature Writing – Vivi Lehman
5th Feature Writing – Lian Boone
2nd Headline Writing – Jesika Miller
6th Headline Writing – Caroline Phillips
1st Informative Speaking – Josh Smith
2nd Informative Speaking – Zach Jones
3rd Informative Speaking – Aryan Patel
1st LD Debate – Phoenix Pittman
3rd LD Debate – Gunner Brown
2nd Literary Criticism Team (Emily Weberski, Sydney Toon, Marc Ross)
3rd Literary Criticism – Emily Weberski
4th Literary Criticism – Sydney Toon
1st Journalism Team (John Park, Marlee Sorrells, Kylie Hester, Caroline Phillips, Lian Boone, Vivi Lehmann, Jesika Miller)
1st News Writing – John Park
2nd News Writing – Kylie Hester
5th News Writing – Marlee Sorrells
2nd Persuasive – Gavin James
3rd Prose – Halle Lambert
5th Poetry – Aaralyn Nilson
1st Science Team (Braden Heizer, Ferris Turney, Andre Samaraweera, Troy Dane)
1st Science – Braden Heizer
2nd Science – Ferris Turney
5th Science – Andre Samaraweera
1st Biology – Ferris Turney
2nd Biology – Braden Heizer
1st Chemistry – Braden Heizer
3rd Chemistry – Ferris Turney
1st Physics – Ferris Turney
2nd Physics – Braden Heizer
2nd Social Studies Team (Koby Kleam, Abby Alexandris, Jeffrey Ptak, Ben Watters)
2nd Social Studies – Koby Kleam
2nd Spelling Team (Abigail Alexandris, Alyssa Starkey, Kylie Kleam, Lauren Van Andel)
1st Speech Team
1st Overall Academics
About the Contributors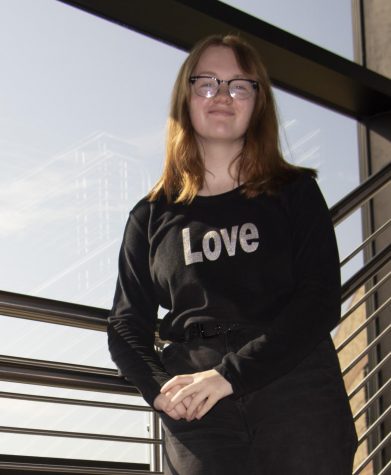 Kylie Hester, Staff Writer
Kylie is a sophomore at Lindale High School and a first year member of the Eagle Eye staff. Kylie is a second year member of the band where she plays tuba....