Petal It Forward: Spreading Joy Through Flowers
The floral design class paired up with Lindale Floral in an annual event called "Petal It Forward". The floral design class passed out roses to people in the front of the school in order to bring awareness of the positive effects that fresh flowers have on the human spirit.
"Essentially, it's like paying it forward," floral design teacher, Cleveland Morris said. "You are petaling it forward to spread happiness to another person. I am so excited to see how this turns out. I really think this would be good for both the kids and drivers involved."
Each class has been working on building the bouquets on both Monday and Tuesday of this week. Lindale Floral donated  flowers to be used in the bouquets.
"Lindale Floral was so gracious in donating some flowers for us to use," Morris said. "Last year we reached over 100 people, so maybe this year we can reach more."
The floral design class started the event last year when Morris took over as floral design teacher. This began after Lindale Floral passed out roses in the long car lines on South St.
"It is really touching to reach out to so many people," senior Abigail Payne said. "It was a first hand experience on how small acts can brighten someone's day."
Lindale Floral got the idea from The Society of American Florists. They conducted an experiment in order to bring awareness of the positive effects flowers have on humans. 
"I would say the flowers definitely brighten everyone's day," Payne said. "It even made me feel good to pass on happiness to someone else."
Last year, the class passed out 108 roses. This year, the goal was to reach out to over 150 students and parents.
 "We passed out flowers to so many people," Payne said. "I am so thankful to influence this many people and to meet people of all types, and I enjoyed making them smile."
About the Writer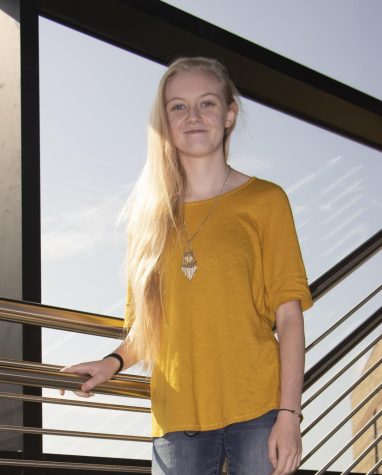 Caroline Phillips, Assistant Editor of Sports, Social Officer
Caroline is a senior at Lindale High School and a third year member of the Eagle Eye Staff. Caroline enjoys listening to and playing music in her spare...