Robotics Students Gear up for Competition
Zach Jones, Assistant Editor of Sports and Copy
October 2, 2020
     Robotics and Engineering students are competing in the Boosting Engineering, Science, and Technology (BEST) Robotics contest on November 14. Students have eight weeks from the kick-off contest at Allen High School September 19 to make their robot and enter it in the competition.
     "I enjoy the UIL competition because we get to see a project from beginning to end," robotics sponsor Duane Walton said. "That's very unique as we built it as we also get to market our product as well, so it's a real world application of a project that kids get to do in high school."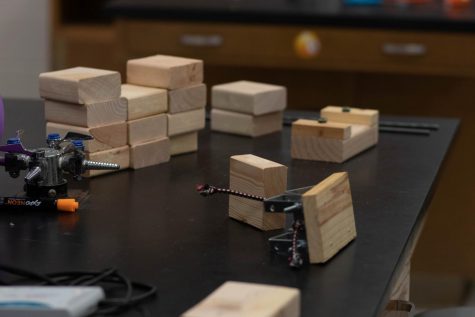 Robotics students are competing under the theme 'Outbreak: Adjusting to the Threat' in which they have to design a robot that can identify and separate 'contaminated' blocks from 'clean' wooden blocks. The blocks represent cells that are either immune, infected, or not infected by the Covid virus.
     "We've been working on different ideas for claws [to pick up the wooden blocks]," senior Braden Heizer said. "Mr. Walton, our sponsor, is making sure we go through the actual engineering process that he teaches in his class." 
     At the UIL BEST Robotics Kick-off event at Allen High School, robotics coordinators explained the organization of the competition while also providing the objective to the competitors.
     "We have people in the engineering class, the robotics class, and after school working on the robot in order to meet the eight week deadline," Heizer said. "Along with the robot itself we have to create a company for the robot and an actual presentation and interview with the company."
     Robotics meets on Mondays, Thursdays, and Fridays after school in Mr. Walton's room and spends their time working on their competition robot. 
    "The more the merrier," senior Ferris Turney said. "Last year we had a problem with not having enough people, but this year we're hoping that we can do a lot better in that aspect and connect with a lot of people in the school."