Not your average Joe
Numerous fundraisers for firefighter Joe Yeakley show the overwhelming support of the community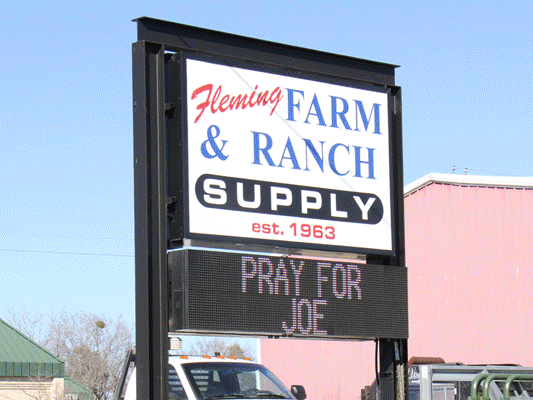 After volunteer firefighter Joe Yeakley was injured in a local house fire, the Lindale community has come together through various fundraisers to support the Yeakley family. The community has raised over $30,000 already and has numerous benefits planned for the coming weeks.
On Jan 30 Pizza Inn had a fundraiser for Joe Yeakley. 10% of the proceeds went to the Yeakley Family.
"By the end of the night we raised around $9,000," Pizza Inn employee Claudia Charles said. "I'm going to do the fun run this Saturday because I want to lead people and show that we can come together as a community. One thing that's great about Lindale is when something bad happens we all come together."
Fightin' for Joe shirts can be purchased through the Lindale Fire Department's Women's Auxiliary or by contacting Angela Green at (903) 920-4679. The shirts are selling for $20 each or 3 for $50.
"I bought a Fightin' for Joe shirt because the proceeds are going towards a great cause," senior Heather Partridge said. "It's been amazing to see what great things our community is cable of. The fact that over $30,000 has been raised for a loved community member says a lot."
The Not Your Average Joe Community Fun Run will be held on Feb 8 at Pickers Pavilion. The 5K run will begin at 10 am and there is a $25 donation that includes a t-shirt.
"I'm planning on attending the fun run to help support someone in need in our community," senior Victoria Gibbs said. "Joe has sacrificed a lot for us by being a firefighter and it feels good being able to give back to him. I'll do anything to help him get better faster."
After the Community Run, there will be a BBQ Lunch (donations only), music and singing. Lindale resident Dayna Crenshaw is one of Joe's many friends who are organizing the fun run.
"We love Joe and Denise and can't imagine not doing our very best to help them through this challenging time," Crenshaw said. "There has been an overwhelming response to the fun run via social media and word of mouth so far, and we are expecting a large turnout. We realize the weather may be uncomfortable but so are the struggles that Joe is facing.  Get out and show your support. Rain, sleet or snow–just do it for Joe."
Leave a Comment