My Inspiration
Growing up is hard. It's probably the hardest thing I have ever had to do. Luckily, I have had the best role models that a person could ask for. My parents are the most dependable people that I know.In the stereotypical television shows, the teenagers cannot stand their parents because they do not understand them. The relationships between parents and children are not always the strongest bonds. Sons and daughters dream of the day that they are able to graduate high school and leave home. However, that is not the case for me. I love the relationship I have with my parents.
My mom is one of my best friends. I guess you could say that we are like Lorelai and Rory Gilmore from the show Gilmore Girls. She has taught me kindness, generosity and love. When I was little, she would encourage me to not give up. Even when I thought that I would never be able to take the training wheels off of my bicycle, she gave me hope. I finally took off the training wheels, and my mom was there to pick me up and put me back on my bike after I fell several times. She is my number one fan, and I know that she will always be there supporting me in my endeavors. When I decided that I want to attend Oral Roberts University, she prayed with me and gave me peace about my choice. Never has my mom berated me or made me feel less than who she raised me to be. She continuously builds me up. When I first entered into high school, I was terrified of what the future would hold for me. However, my mom encouraged me to pursue the challenges of the future and to rely on God for peace and comfort. Without my mom, I definitely would not be the same person I am today.
"
I will never be able to express the gratitude I have for my parents walking through life with me."
— Kaitlyn Barrington
Fortunately for me my dad is the best father in the entire world. However, that is only my opinion. Some people, such as my younger brother, might say I am a daddy's girl, and I might say that it is true. One of my favorite things about the weekend is waking up and watching old western shows with my dad. I love the little moments of quality time that I am able to spend with him before I leave the nest. My dad has given me some of the most valuable life advice that has pushed me to become the person I am today. One time while he was building a fence, I attempted to help him and claimed that I was not able to hold the fence post for him. He encouraged me to continue trying and said "Kaitlyn, you can do it. Don't sell yourself short." It is the little things that he says to me that make him a role model. Throughout my childhood, my dad has sacrificed so much of his time and energy in order to make sure his wife and children live a good life. He built a business from the ground up and inspires me with his incredible work ethic. I have never once seen him give up which is why I look up to him. Not only is he hard-working, but I think he is hilarious. Almost every day he has a new joke to tell me, and while other people are annoyed with dad jokes, I have a lot of appreciation for them. Even when I learned how to drive, he would tell a joke to relieve my nervousness. I would never trade a single moment that I have shared with my father.
Both of my parents have shaped my character and have prepared me for life after high school. The bonds that I have formed with them are undeniable that no matter how far I go or how many arguments we have will that bond ever be broken. I will never be able to express the gratitude I have for my parents walking through life with me. Thank you Mom and Dad, and I love you both.
Leave a Comment
About the Contributor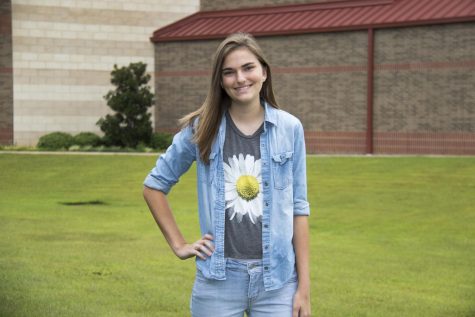 Kaitlyn Barrington, Managing Editor
Kaitlyn is a senior at Lindale High School and the Managing Editor for the Eagle Eye staff. Kaitlyn is also a member of Key Club, National Honors Society...