Pumpkin Spice and Everything Nice
Autumn has been, and will always be, one of my favorite seasons. The air turns crisp, the orange leaves crunch beneath my old combat boots and the sun sinks behind the horizon an hour early. From the tips of my toes to the yellow beanie on my head, a warm sensation greets me like an old friend when I witness that first leaf falling.
To embrace this amber season with wide open arms, here are some tips and observations that I have encountered over the years.
"
A warm sensation greets me like an old friend when I witness that first leaf falling."
Enjoy the fresh air: There is something magical that happens when autumn comes. The air outside becomes cool, and when you breathe in, it is like you are taking your first breath. To me, there is nothing more relaxing than taking a book outside with a cozy blanket in the fall. And if that is not your thing, then there are other alternatives. Grab a magazine, binoculars, your brother's phone, anything! Anything will suffice under the crisp breeze of autumn.
Get leafy with it: Fall is the season of color, and with most things in life, beauty brings a consequence. Take advantage of the dead leaves rustling around in your yard and make a leaf pile. While you may think that it is an elementary thing to do, I can assure you it is not. Everyone has a child-like imagination, and fall is certainly the season that can bring it out.
Set the ambience: Another wonderful aspect about this season is the multitude of warm aromas. It can range anywhere from the obvious choice of pumpkin spice to cinnamon and nutmeg and cedar wood. Whenever I want to relax or just appreciate the fact that it is sweater weather, I light a candle.
Pumpkin' around: Is it really fall if you don't have a pumpkin or two? Or maybe even five just to be on the safe side? There are many benefits to having a pumpkin. Do you have friends over, and the only thing to do is stare at your phone? Why, host a pumpkin carving competition! Put that Pinterest to good use. Do you have a sweet tooth? Make a pumpkin pie! Are you peckish and just want a snack? Oh, dear me, it's as simple as one, two, three. You can just pop some pumpkin seeds in the oven! As you can see, pumpkins are a good investment to make this time of year.
Fall into a movie: Having the right cinematic experience can make all the difference. Some of my personal favorite fall-related movies include: Monster House, Sleepy Hollow, Mickey's House of Villains, Gilmore Girls, Sweeney Todd and A Charlie Brown Thanksgiving. Now, you're probably thinking, "Wait, Mickey's House of Villains? Did I read that right?" The answer is yes, okay? Disney makes me happy, and I strongly believe that it should make you happy, too.
Pumpkin spice and everything nice: Picture this: you are walking down an aisle of the store, and you notice pumpkin spice oreos. Walking away and towards another row, you bump into a display selling pumpkin spice oatmeal. You turn your head, and the pumpkin spice cereal greets you. Wherever you go, there is a pumpkin spice something vying for your attention. For me, experiences such as these are bliss. This rare commodity is like the cherry on top of the season. Go crazy. Have at it.
And if nothing else, go all out: There is no shame in wearing a thick sweater layered with a plaid scarf in 70 degree weather. There is not even an ounce of shame if you were to have a pumpkin spice candle in your hand at all times. Do not become disheartened if your friends or your fellow human beings grow exasperated at your abundant celebration. The only appropriate response is to throw orange and yellow leaves at them from the deep pockets of your coat.
Leave a Comment
About the Contributor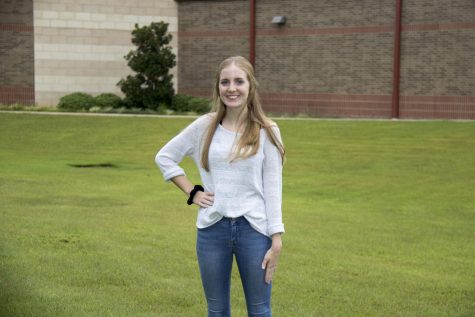 Bailey Spencer, Assistant Editor of Copy
Bailey Spencer is a senior at Lindale High School and the Assistant Editor of Copy for the Eagle Eye staff. Outside of newspaper, she is also a Social...