Volleyball Plays Royse City for Homecoming
Friday night before the Homecoming football game kicked off, the Lindale Lady Eagles got to work and defeated the Royse City Lady Bulldogs to improve their district record to 3-0. The Freshmen A team won in three sets with scores of 25-20, 21-25, and 25-18.  Standouts for the Freshmen were Darby Woodrum (offense) and Kenleigh Aguirre (defense).  The Freshmen B team traveled to John Tyler and played extremely hard but lost in three sets.  The JV team lost in two tough sets to Royse City with scores of 16-25 and 26-28.
The Varsity Lady Eagles won in three quick sets with scores of 25-21, 25-21, and 25-16.  Leading Lindale at the net were Shelbi Steen (10 kills, 2 blocks, 6 digs) and Brina Kuslak (8 kills).  London Reue and Hannah Knox each chipped in 7 kills a piece, and middle blocker Skylar Wyllie led in blocking with 4 blocks. Setters Harleigh Thurman and Kalaya Pierce moved the ball around consistently; Thurman had 17 assists and Pierce followed with 15. Libero Jennifer Moyer led the defensive effort with 22 digs in the three set match.
The Lady Eagles will travel to Texarkana Tuesday night to take on Texas High and will return to play at home again on Friday October 5th against Greenville. The end of next week will conclude the first round of district play.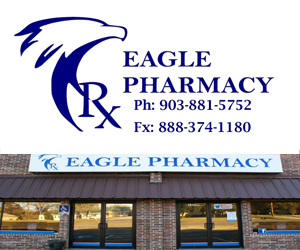 Leave a Comment