Junior High Students Receive Awards
Eighth graders Christian Flores and Autumn Schoolcraft were named LISD Junior High Students of the Month. Flores and Schoolcraft received the honor because
of their hard working attitudes, kindness and diligence displayed in and out of the classroom.
"Both Christian and Autumn are extremely hard working students," junior high vice principal Tracie Rand said. "They are the kind of kids that take care their business, and you do not have to worry about them. You see them coming and going and they are always doing what they are supposed to be doing."
In his free time, Flores enjoys playing soccer, going shing and hanging out with his friends. Flores also enjoys school and has hopes of becoming an engineer.
"When I grow up I would like to be an engineer for NASA," Flores said. "If that does not work out I would be an architect, maybe a landscape architect."
Flores' favorite teacher is speech and drama teacher Molly Bacon.
"Christian is a wonderful young man," Bacon said. "He does what he is supposed to do; his work always done; he is polite and helpful. I can't say enough good stuff about him."
Schoolcraft, who moved to Lindale when she was in the third grade, enjoys dance, sports and reading. She wants to become a forensic psychologist in the future.
"When I came [to Lindale] they gave me a lot of opportunities that I did not get in my other schools," Schoolcraft said. "I love going to school here."
Science is Schoolcraft's favorite subject, and seventh grade science instructor Kyle Galloway is her favorite teacher.
"What makes Autumn different from
others is that she has a super positive attitude," Galloway said. "She's always happy and energetic and she's never down about anything or anybody else, which can be tough at this age."
Flores and Schoolcraft are both nervous and excited for high school. They "look forward to the freedom and opportunities" according to Schoolcraft.
"Christian and Autumn have great personalities and are both super positive kids and fun to be around," Rand said. "They are very respectful and just do a great job taking care of their business. It is no surprise that they were chosen as students of the month."
Leave a Comment
About the Contributor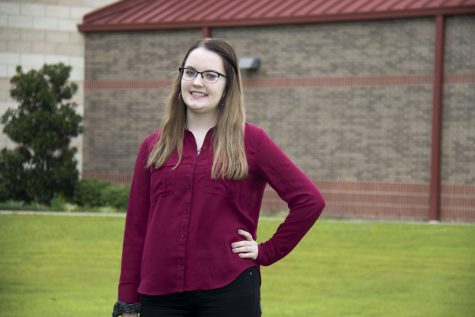 Kaylee Rodriquez, Editor-In-Chief
Kaylee is a senior at Lindale High School and the Editor-In-Chief for the Eagle Eye staff. Kaylee is also a member of the audio visual production team,...