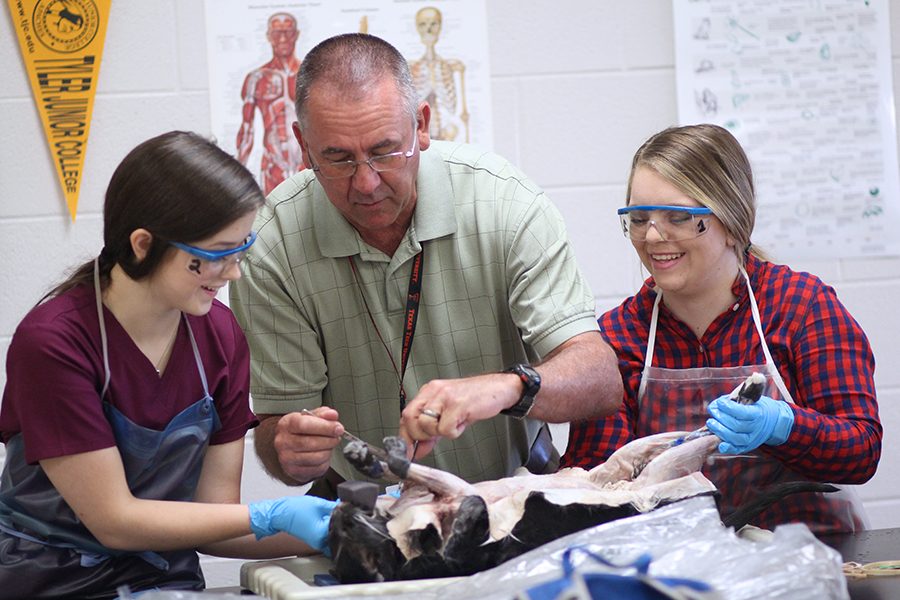 Ronak Desai
TJC anatomy and physiology students have begun a six week process of dissecting cats to study their muscles and structures. Each group of two or three students performs tasks with and inspects its own cat.
"The cats are large enough to see many of the structures we have been learning about in the lecture part of the class,"  teacher Robert Klein said. "It allows the students see body parts that are very comparable to the human body parts."
Students have been taking notes since the beginning of school in preparation for the cat dissections. The cats are purchased from a company in Alexandria, Minnesota that supplies scientific equipment to schools, and as vertebrates with similar muscles, are useful models for the human body.
"We have been taking notes since the second day of school to prepare to dissect the cats," senior Alisha Kister said. "The shift from taking notes to the actual dissection process was easy because Coach Klein has well prepared us for the dissection."
Students who enjoy the dissection process see it as a helpful learning experience that complements the notes and lectures they typically use to learn. Through it, they can analyze the similarities and differences between a cat's organs and a human's physiology.
"The hands on experience compliments the lectures greatly because we are actually able to see what the other side of skin looks like and how all of the organs fit in together," senior Chloe Land said. "Usually, during a lecture, we will receive a worksheet with diagrams the go with the body system that we are learning about."
"
Some students are tentative about the process.
"At first, dissecting the cat was extremely discomforting, but after the first day it became easier and easier," Kiser said. "Coach Klein makes the process more enjoyable than discomforting. His sarcastic approach to questions almost eases the discomfort away."
Klein began cat dissections after having to dissect a cat in college. Though he didn't have the opportunity to perform one in high school, he planned to use cat dissections when teaching high school students because of their educational value. Now, Tyler Junior College requires this from the educators it employs, ensuring that students who take Klein's class will have the opportunity to perform them.
"Before the dissection begins, students are normally a little apprehensive," Klein said. "But once the initial shock is over, they really get into it and learn a lot from the actual parts of the cat's body that correspond very closely with the human body."