United we stand
Two Rivals, Together in Competition, Friendship
Published concurrently in both The Eagle Eye and The Paw Prints online newspapers.
The steady buzz of students charges the air with excitement, as a small group of four huddles by a window at the State UIL journalism competition. They share friendly laughs and offer advice and encouragement as competition time inches closer and closer. It seems as though they have known each other for ages, but the school names displayed across their shirts tell a different story- for these competitors from districts miles apart, the rivalry between their schools is put aside for the sake of friendship and East Texas pride.
After approximately 20 years of competing with each other in various UIL academic events, Whitehouse and Lindale, long-time rivals and friends,  may not compete side by side at the district level next year. The decision will be announced by the UIL board in late February.  
"Lindale and Whitehouse have had some friendly competition," Whitehouse sophomore Dana Ramirez said. "Sometimes it can get intense because the rivalry is pretty big. However, it is nice to compete with them because I find myself striving to get better in order to beat them."
Although Whitehouse and Lindale stand roughly 30 miles apart, the distance has been no match for the affection each team exhibits for both their own school and their sister school. The teams have become comfortable with each other over the years, and they work together to create a strong East Texas presence in UIL competition.
"Neda [Lindale's adviser] and I immediately developed a friendship because we both had the passion for [journalism] and we fell in love with each others' kids," Whitehouse adviser Paige Dyer said. "No matter if it's Lindale that walks away with a gold medal, or Whitehouse who does, we, [as coaches], are just as excited as if it were our own students. It's as if their teammates are our teammates and their students are my students."
"
In my opinion, the dynamic between the two teams is not like any other UIL team."
— Kate McLeod
Last year, Whitehouse sophomore Dana Ramirez and senior Kate McLeod advanced to regionals along with Lindale sophomore Colleen Starkey and seniors Adrienne Parks and Tyra Rodden.
"Adrienne and I  both have a lot of respect for each other as competitors and want each other to do our best," McLeod said. "In my opinion, the dynamic between the two teams is not like any other UIL team."
McLeod and Parks will be defending their places as 5A state editorial champions.  McLeod won the title in 2017, Parks in 2016.  Members from both teams attend practice meets and workshops together in order to hopefully make it out of district to regionals.
"We attend a lot of competitions with Whitehouse," Lindale adviser Neda Morrow said. "It's like a big family.  We look out for each other and help each other when we can.  We really feel that when one of our teams win, we both have won."  
Both schools compete in one of the toughest districts in East Texas. With competition at such a high level, the teams have learned to combine their resources to ensure that East Texas is well represented at regionals and state.
"Competing is really hard.  Everyone is vying for spots on the team or to advance to the next level," Starkey said. " We have to compete against ourselves in addition to the other schools."
The teams share a unique friendship and are able to utilize resources to their advantage. Last season at the state competition, both competitors worked with both coaches in order to give each school the best chance to win a medal.
"When Kate and I practiced with each other's coaches at state it was truly a display of camaraderie unlike any other UIL team I've ever seen," Parks said. "Our friendly rivalry pushes me to be a more competitive writer. More importantly, it's taught me that competing is not about winning titles, but rather growing and learning with others in a positive way."
The love and support that each team shares has created an atmosphere of friendly competition and mutual respect. Both teams hope to continue as friendly rivals, whether competing in the same district or not.
"It is really nice to have another school rooting for you," Starkey said. "Our relationship is priceless. I wouldn't change it for the world."
Leave a Comment
About the Contributor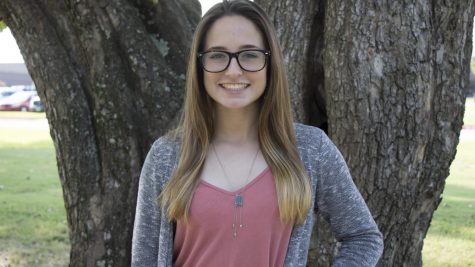 Tyra Rodden, Sports Editor
Tyra Rodden is a senior at Lindale High School and the sports editor for the Eagle Eye staff. She competes in softball, track, cross country and UIL. She...