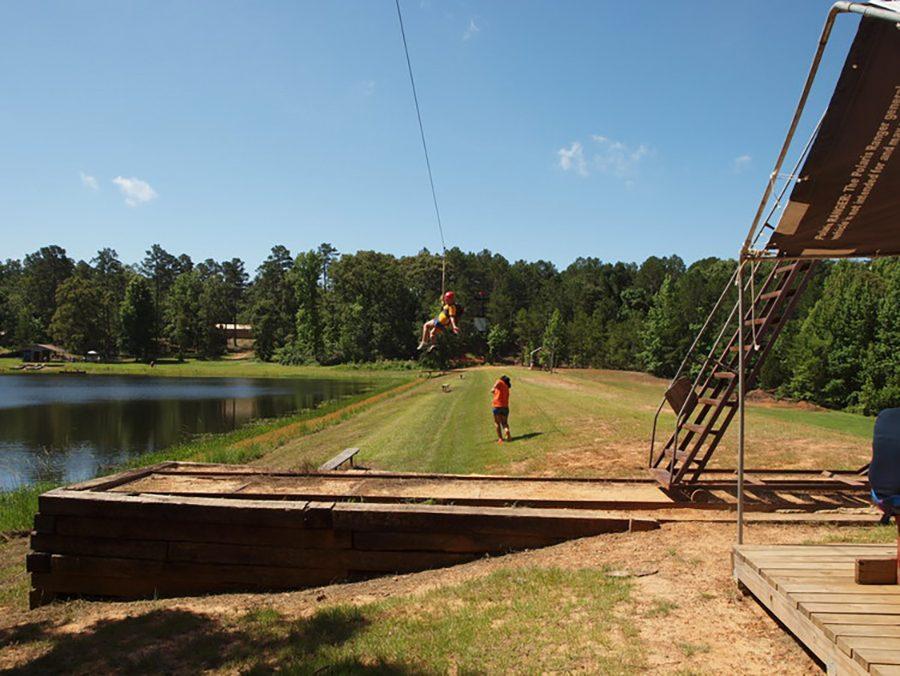 TimberlineCamp.com
Campers shout with delight as they race down waterslides in the radiant sunshine. Pills rattle in their vibrant orange bottles as the cashier rings up a customer. Young soccer players smile brightly, and the photographer counts down to the flash of the camera. Seemingly unconnected, all these settings share a simple yet incredibly important aspect of their success: families working together to sustain a business practice.
>Several students participate in their families' businesses in the Lindale and Tyler area, incorporating real world working conditions into their lives at a younger age than most. 
"I would say that for a student to have the opportunity to participate in the operations of a family business, they could gain experiences in a myriad of things that could be helpful," Principal Valerie Payne said. "Having to work for a family business while still in high school has the potential to better equip that student for the world of work after he or she graduates."
Timberline Baptist Camp and Conference is owned and operated by sophomore Austin Roots' family. During the summer when the grounds are alive with campers, Austin assists his mother in the Fillin' Station, or snack shack, and spends time getting to know the older staff members working for the season. His father has never worked in any other setting besides that of summer camps, so Roots has been involved with this business all his life.
"For me and my family it's been really amazing," Roots said. "We all love it and it's really nice being able to live out here in this big camp and not in the suburb/city setting. We're all really close, so it's really helped our family to be more connected. It's just a really great business to be serving the Lord in."
Alongside her parents, senior Morgan Droblyn maintains a regular work schedule at Eagle Pharmacy, which was opened by her father in 2013. On the weekends and after attending school during the week, she works the cash register, answers calls, tends to the drive through and assists customers in finding medical supplies and over-the-counter medications or vitamins when necessary.
"I think it's introduced me a little bit easier into the working world," Droblyn said. "I have my dad to guide me on how to act as an employee, and I don't have to worry so much about being fired if I do something wrong. I think it's a lot better than my dad working at a different pharmacy because we get to be with him all day."
Juniors Ronak and Riya Desai's family has been running hotel businesses in the surrounding area for around 15 to 20 years, and they currently own the Best Western Lindale Inn. The hotel itself is actually built around their home for easier management and practicality. The Desai's involvement in their family's business is typically limited during the school year but more involved during the summer.
"Since I grew up with my parents working all the time, I was introduced to a working lifestyle and adult life at an early age," Ronak said. "I got to see how being an adult and working was before most people. Throughout school, work has been described as mostly negative, but it's been interesting to see my parents do it and get a chance to do it myself."
State Park Grocery, a gas station and convenience store located directly in front of Tyler State Park, has been operating for 19 years through junior Anthony Wyatt's family. He contributes to the business every Sunday by cleaning, working the register and making waffle cones for the store. Over the years, one of the most interesting occurrences was when a truck was driven into the front of the store, a chain was tied around the ATM and the vehicle sped off down the road.
"I think being a part of a family business is something that you don't necessarily get in most circumstances," Wyatt said. "It also teaches you how to be a better employee whenever you're working with family. It shows you the things that need to be a part of your integrity and how you should be working in the real world."
Junior Bailey Bunch's mother has been running her own photography business, known as Lasting Impressions, out of their home for about 15 years. Bunch assists her mother by promoting her business to others, handling her equipment during sessions and setting up/organizing for her. Growing up with a photographer for a parent, Bunch holds many fond memories of birthday party photoshoots in the studio and helping her mother while photograph little athletes at the baseball fields all day.
" Everyone always knows who she is," Bunch said. "They're always asking me about her and her business, where to go, what would be the best thing to do and how much she can do. I get to see all her pictures and it's pretty cool process to watch. It's also cool to see what she can do and how she can make these pictures."
Having significant responsibilities at younger ages has impacted these individuals in many ways and shaped their futures in the working world. Many different experiences are gained whether it's through service to others, building up relationships with family as well as customers or making memories to cherish forever.
"In owning a business that a lot of people come to it's kind of neat because there will be people from school that I see that come into my business to buy things and I can just connect with them on that level," Wyatt said. "Owning a store or even having a job in general allows you a way of being integrated in the community that not a lot of people get to experience, and I think it's a really unique thing."