Greetings through every season
Door greeter makes lives brighter for LHS students
A frigid December breeze rustles the dry, fallen leaves in the parking lot as a slow stream of students begins to trickle into the building. Sleepy eyed and bundled up in their toasty winter coats, these young people from all walks of life are greeted with a bright smile as they pass through the doors of the high school. Volunteer Betty Hicks extends a joyful welcome to every child who enters the school– every day, rain or shine.
Hicks greets students at the door every morning, and has been doing so for six years. She feels this is an important aspect of volunteering for the community and will continue to do so for, as she says, as long as God wants her at the school.
"It is a blessing to my heart to come here, it truly is," Hicks said. "I am blessed far more than the kids are. I love these kids, and I just praise God for all of them."
After living in Austin for 21 years, Hicks moved back to Lindale when her granddaughter Kayla Calloway entered the sixth grade. She asked the principal of Calloway's school if she could be a door greeter, and eventually moved up to the high school with her granddaughter.
"She loves to come impact people's mornings and begin the day with something positive," assistant principal Ryan Tomlin said. "I know when I see her in the mornings she's always saying something positive with a smile on her face. It's something that's very contagious and I think that's what her desire is."
These simple greetings do not go unnoticed. The parent of a student personally approached Hicks to inform her of how much her son adores her. Principal Valerie Payne also tells of a student who wrote earlier in the year that he didn't think he could walk through the door if he didn't have Hicks there to greet him every day.
"It just shows you we don't know what a child is feeling when they enter the school," Payne said. "If it makes an impact that big on one student, I think it's very important that they're welcomed every day."
Outside of volunteering at the high school, Hicks devotes her time to other important aspects of her life. She recently started taking care of a 98 year old woman in Hideaway, and after fourteen hours of being with her each night, she comes up to the school to greet students. Hicks also prioritizes her membership at the Cross Brand Cowboy church where she is very involved.
"I went to church with her, and she does a lot for the church just like she does for the students," junior Madison Slauson said. "She calls me her granddaughter and she's like my grandma. I give her a hug every morning, and she always tells me I'm pretty. It makes me ready to conquer the day."
Hicks has formed some personal relationships with people during her years as a door greeter. In addition to keeping up with teachers' and students' names and little details about them, she has made lasting friendships. Her relationship with Payne perfectly exemplifies this.
"She gives me a special greeting every day with a big hug and just sets the tone for my day," Payne said. "I'm usually here earlier and she will seek me out. It is that important to her that everybody gets a greeting, including me."
The time in which Hicks will retire from her days of volunteering as a door greeter is unknown. She plans to continue her work at the school until she is no longer able to do so.
"I will be here until He calls me home," Hicks said. "I don't have any thoughts about what I'm going to do with my mornings next year. That never has entered my mind, because I know what I'm going to be doing as long as He wants me here."
View Comments (3)
About the Contributor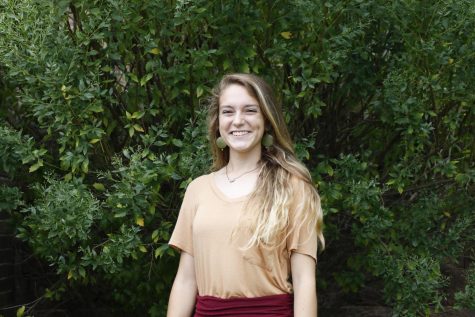 Adrienne Parks, Social Officer
Adrienne is a senior at Lindale High School and the social officer for the Eagle Eye Newspaper Staff. She spends her time as a member of many organizations...