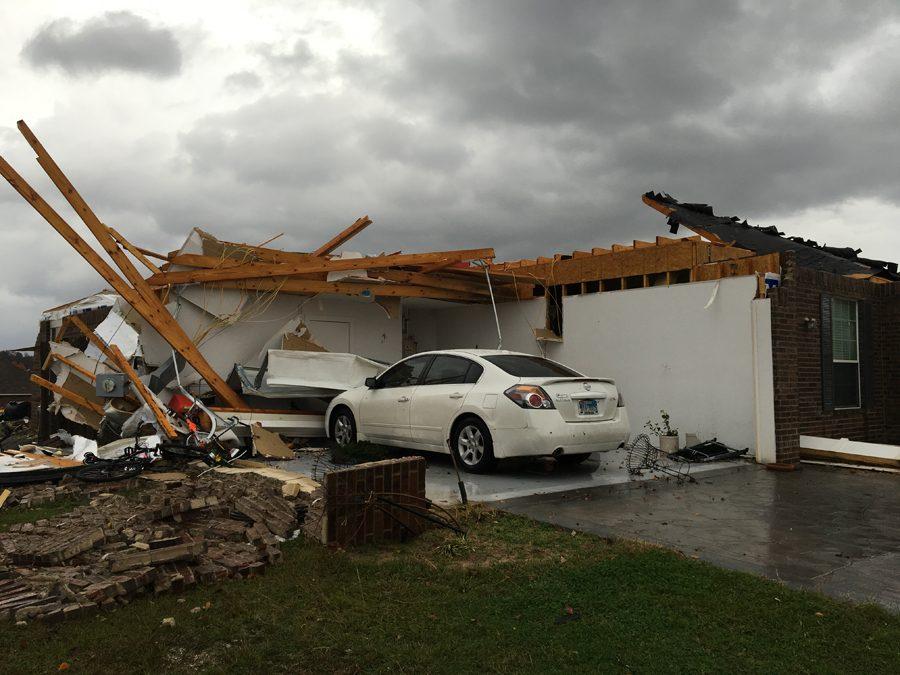 Avery McMurray
Ominous black clouds loom menacingly over the trees as their rustling tops begin to swirl. A peculiar green hue develops in the atmosphere as the piercing rain is blown sideways by the wind. Suddenly, everything pauses as if mother nature is holding her breath, and a column of violently rotating air wreaks havoc upon the homes of Lindale families.
Multiple Lindale High School students were affected by tornados last December and April. Varying in extent, the homes of Avery McMurray, Klaire Hicks, and Anthony Wyatt were damaged and are undergoing repair.
"You can't really understand what it's like until you go through it," McMurray said. "There have been some upsides, but overall it's been hard because of all the memories. It's just like starting over I guess."
McMurray's house was struck on Saturday, Dec. 12, 2015 in the afternoon. The roof of the house had been removed by the storm, and the following rain caused irreparable water damage.  Although she and her family were home at the time, no one was injured.
"Honestly, the biggest thing to me is just that you can replace little things but not people," McMurray said. "That was really hard at first because it was like 'oh my gosh I lost my home,' but none of us were hurt."
Before eventually moving into a hotel and then a duplex with her mother, McMurray stayed with a friend so she could continue attending school. Her house was bulldozed in January, and rebuilding began around late March or early April. The McMurray family recently learned that the new house will be move-in ready within the next month.
"I actually just found out yesterday," McMurray said. "They told my mom that we could move in the middle of October. They'll be done really soon, so that's exciting."
The more recent tornado of the two hit Hicks' and Wyatt's houses on Friday, April 29, 2016 in the evening. Hicks was at a friend's house when the tornado took the roof of her home and destroyed most of the belongings inside. Family and community members came from different places to assist in the forward progression of recovery.
"Whenever it happened, random people we haven't talked to or that we're not close to showed up and helped," Hicks said. "It just shows you that people are there for you even though you don't realize it."
Four months after clearing debris and being displaced at a hotel and now a temporary home, the remains of the afflicted house have been bulldozed. The family is now awaiting the construction of their new, self-designed home, which is expected to occur in the next month or two.
"It's been really stressful," Hicks said. "We have to lean on each other, because if we don't, then we don't have anything."
Wyatt's family took cover at his grandparent's sturdier home on their same property when the twister hit. Over 200 trees were lost, vehicles were crushed and the two homes suffered cosmetic damage on their property. Within that weekend, people with bulldozers and chainsaws came out to help restore the property to a practical state of living.
"It was very hectic and very hard to deal with at first," Wyatt said. "I had to spend a lot of time at my friend's house where I could functionally go to school before I had a solid place to live at with my family."
Waiting over a week for electricity and over a month for running water weren't the only hardships Wyatt has had to endure before moving back in, as the sentimental aspect of his home was affected as well. He was raised on this property from childhood, and it holds significant emotional value to him.
"It's very hard for me to cope with because my natural surroundings have always been very important to me," Wyatt said. "I know that my property will never look the same as it did growing up. It's very barren, and as hard as it is to get used to it, I know it's something I have to do and move forward with."
All three students shared common philosophies regarding their individual situations. Their families relied on each other for strength in the midst of stressful chaos, their value was placed in people rather than possessions and they discovered that it is hard to imagine what it's like to experience this hardship unless it's something one experiences themselves.
"Whenever tornados hit places around you, you never think that's going to happen to you," Wyatt said. "Then you look out the window and think, 'This is real. This is the thing that people talk about.'"