Gone, but not forgotten
Remembering coach Dick Stringfellow
He flies down the court, beads of sweat rolling down his face. With an opposing player gaining on him, he screeches to halt just outside of the three point line. He fakes the shot and the opposing player sails into the air, but it's too late, with a simple fade away it's nothing but net. He gazes at the banner hanging behind the goal: Nobody Plays Harder.
A memorial service was held for Coach Dick Stringfellow Friday night before the varsity basketball game. Stringfellow coached varsity basketball at Lindale from 1988 to 1998 and is forever immortalized through the banner draped at the south end of the high school gymnasium. 
"Coach Stringfellow hired me to Lindale ISD in 1991 as his assistant basketball coach, and so that was my connection to and how I got here," assistant superintendent Jamie Holder said. "Coach Stringfellow taught me so much about relationships and how you can combine discipline along with love and kids are going to really respect that. He was my mentor, my friend, and he was my hero."
Before coming to Lindale, Stringfellow played basketball at Texas A&M where his team went on to become the 1964 SWC champions. Stringfellow also coached basketball at Ennis, Crowley and Sherman before coming to Lindale, where he then retired.
"NPH for me was a really personal thing it wasn't just about being that player on the floor, but being that player in life," former LHS basketball player and coach Daniel Devisscher said. "Coaching basketball here for the last six years, for me it was something I was able to transition and be able to instill in my players, and in my own life, nobody coaches harder."
After being diagnosed with cancer in 1996, Stringfellow continued coaching for another two years. Unfortunately, only three years after the diagnosis, the cancer took his life. The memorial service Friday invited Stringfellow's former players, wife, daughters and their families to remember the man that impacted their lives.
"I think the letters in the gym that they wrote on the wall pretty much embodies what Coach Stringfellow was about," former LHS basketball player Shane Gray said. "That's what I continue to pass on to my son–if  you want something then you have to work for it."
Leave a Comment
About the Contributor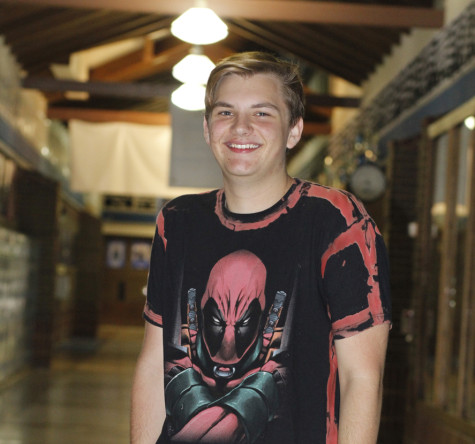 Lucas Bonds, Photo/Video Editor
Lucas is a senior at Lindale High School and second year Eagle Eye staff member. He loves music, games, and spending time with friends. He is a squad leader...