Seniors participate in Texas Relays
Seniors Travicia Acy and Mackenzie Bateman participated in the Texas Relays on March 27 and 28 in Austin. Acy finished in fourth place in high jump and Bateman finished 10th in pole vault.
"They are both great young ladies that work so hard," athletics director Mike Meador said. "It is an honor to qualify for the Texas Relays, and we are so proud for them to represent us in Austin."
The Texas Relays is a track meet in which athletes must qualify ahead of time to participate. The performance of an athlete at the meets prior to the Texas Relays must meet a certain standard to give the athlete a spot in the meet.   Acy ended with a jump of 5'5 ½" and Bateman vaulted 11'7 ¾".
"I feel accomplished," Acy said. "I did pretty good to have gone up against athletes from 6A schools."
This meet is one of the biggest track meets in the nation with both college and high school athletes competing. There were over 2,000 people from 32 states and 8 countries participating in the meet.
"The experience is unbelievable," Bateman said. "Being one of the few to qualify from Lindale, it is an honor to represent my school at such a huge event."
Bateman and Acy have both participated in the Texas Relays the past two years. The two seniors were the only students from Lindale to qualify for the meet.
"I am very excited about the opportunity that Mackenzie and Travicia had to compete at the Texas relays," Meador said. "Both young ladies are great kids and I think they will have an opportunity to compete at the state meet in Austin."
Leave a Comment
About the Contributor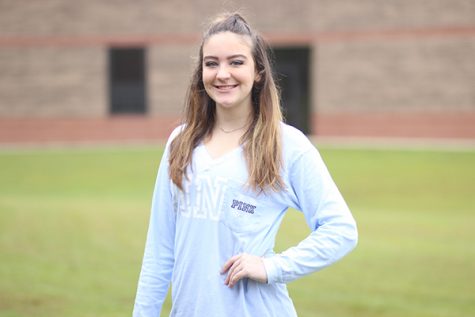 Kelsey Crews, Editor in Chief (Fall)
Kelsey is a senior who plays volleyball and competes in high jump. This is her third year to be on the newspaper staff. She is considering completing a...