High School To Host Summer Camps
Registration is now open for the sports and theater summer camps. There are 10 total camps to choose from.
"We host a summer camp for almost every sport the high school offers," head coach Jessica Camp said. "We've been hosting them for years."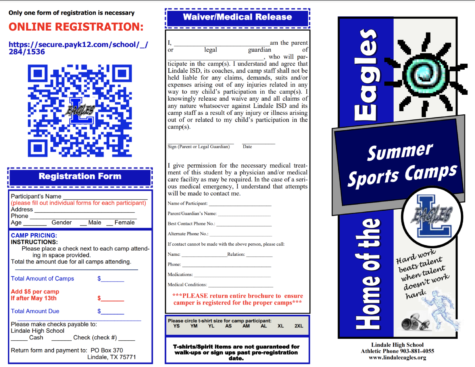 There will be golf, volleyball, football, basketball, soccer, softball, baseball, and tennis camps. All information can be found in the Summer Sports Camps brochure on the district website.
"I host a boys basketball camp this summer," basketball coach Christopher Grotemat said. "Camp is one of the most exciting weeks of the year because it allows me to build relationships with younger student-athletes who will one day be a part of the Eagles basketball program."
Theater will be hosting a camp July 17 – July 20. The Theater Camp will be for any student who is entering kindergarten – 5th grade. They will take part in acting games, be introduced to improvisation skills, experience stagecraft, and rehearse for the end of camp play.
"I think all the coaches enjoy hosting camps because they get to see what we have coming up from the JH and younger," Camp said. "It's a good time for us to meet a lot of little Eagles and hopefully help grow knowledge and love for our sport."