Student on the sidelines
Lindale newspaper staff member experiences broadcast journalism
Heart racing, she stands in the large tunnel, shifting back and forth on her feet in the darkness. Mic in hand, she braces herself for the rush of footballers and stands stiff as they come charging through the entrance, shouting chants while rushing toward the open field.
Senior Lily Hering was chosen to go out in the field as a reporter September 12 at the Lindale homecoming game. Local radio station, 99.9 KMOO, invited Lily to represent them on the sidelines.
"I actually stood inside the tunnel as they were running through, and I was scared that I was going to get trampled," Hering said. "After they ran through I had to follow them out and mic the coin toss. It was sort of embarrassing being in the middle of the field, chasing the referee around."
Hering is a UIL state champion in journalism, and is a third year staff member for the Lindale High School Eagle Eye. KMOO usually has a reporter present at football games that they spotlight every week, and chose to have a LHS journalism student as their representative.
"It was pretty scary when I got there," Hering said. "I didn't originally know that I would be going on air. It was a very fun experience though, but I am not sure I would choose this as a career."
KMOO selected Lindale based on their great journalism program. Hering reported live on air the status of the game and the spirit of the crowd. She interviewed coaches and members of the public.
"I was very excited to get the call from the KMOO station about having a student reporter on the sidelines at games," newspaper advisor Neda Morrow said. "This was a perfect opportunity for a Lindale student to get some real-world experience in the broadcast journalism field."
Leave a Comment
About the Contributors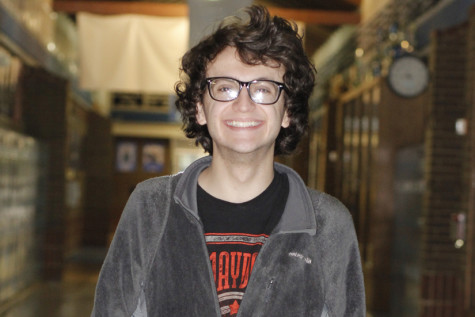 Drew Austin, Social Media Manager
Drew Austin is a senior at Lindale High School and a third year member of the LHS Newspaper staff. Drew is a vegetarian, and he loves animals more than...