Chamber names two LHS seniors Student of the Year, two receive scholarships
Four Lindale High School (LHS) students were honored for their hard work Monday night at the Lindale Area Chamber of Commerce 30th Annual Banquet.
Ashley Chambers and Josh Moore were named the Chamber Students of the Year. Karla Cruz and Max Taylor each received a $500 scholarship from the Chamber.
"It's an honor to be able to watch these students grow into successful, young adults," said LHS Principal Casey Neal. "I know firsthand how incredible these individuals are, but to have the Chamber recognize their dedication and character is truly a privilege."
"I am so proud of our students that receive recognition from the Chamber," said Chamber Vice President and Lindale Independent School District Superintendent Stan Surratt. "To be recognized as the Chamber Student of the Year or to receive a Chamber scholarship is certainly special. We are so thankful that the Chamber of Commerce recognizes outstanding Lindale High School students."
LHS administrators and counselors selected one male and one female student for each award based on academic course rigor, class rank, extra-curricular and community involvement, previous awards, leadership, and future plans.
Female Chamber Student of the Year Ashley Chambers is the daughter of Brent & Donna Chambers. She plans on attending The University of Texas at Tyler to pursue a career in pediatric nursing. Chambers wants to specifically help children fighting cancer.
"It is such an honor to receive the Female Chamber Student of the Year award," Chambers said. "I have been blessed with several wonderful teachers and counselors that have helped me along the way. All the extra time and support they have given me has helped me soar. I am very thankful for this honor and the opportunity to represent Lindale High School."
Josh Moore, Male Chamber Student of the Year, is the son of Rhonda Smith and Mike Moore. He plans on attending Texas A&M University to major in Mechanical Engineering and minor in Arabic. Moore wants to use his education to go into the automotive field in the Middle East where he can improve the quality, performance, safety, and efficiency of vehicles, while sharing the message of Christ.
"It is a tremendous honor to have received the Male Chamber Student of the Year award," Moore said. "God has blessed me greatly by allowing me to grow up in such an amazing town among amazing people. It has been my honor to strive to do my best among my fellow peers, and I am extremely thankful my hard work was recognized."
Female Chamber Scholarship Recipient Karla Cruz is the daughter of Jose and Ana Cruz. She plans on attending Tyler Junior College. Cruz wants to pursue a career in interpretation for hospitals or courtrooms to help improve communities.
"It makes me feel really great to be a recipient of this scholarship," said Cruz. "I try my best to work hard in school and be the best student I can be. I'm really thrilled my work and dedication is noticed by my teachers."
Male Chamber Scholarship Recipient Max Taylor is the son of Barbara Graham and Mark Taylor. He plans on attending Texas A&M University to pursue a degree in Mechanical Engineering.
"Receiving this award is a huge blessing," Taylor said. "Being surrounded by such supportive and loving individuals really allows students, like myself, to grow and develop. Being recognized by my local community is an honor, but I consider being a member of this community the biggest honor of all."
###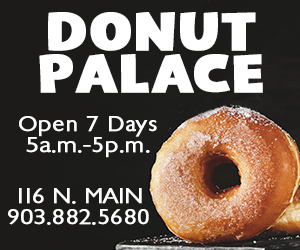 Leave a Comment