Law Classes Learn ASL
John Park, Managing Editor of News and Feature
February 13, 2021
As an addition to the nonverbal communications unit in her Law II classes, Law Teacher Paige Ridge utilized the new ASL class to help teach her students basic sign language. The unit was started and monitored by both Ridge and ASL teacher Amy Thompson, but the majority of the instruction was done directly by the ASL students.
"We have an amazing ASL teacher now in Mrs. Thompson," Ridge said. "I thought it would be a great learning experience to partner with her students so that they could teach my students ASL skills to communicate with the deaf public."
Each year in Law 2, the class has a communications unit consisting of both verbal and nonverbal communication. Usually, during the nonverbal portion of the unit, they would briefly go over the traditional things police officers would do when interacting with the hard of hearing, but this year Ridge decided to collaborate with Thompson and the students of her ASL class.
"Almost 98% of what law enforcement does is actually communicate, that is their biggest tool," Ridge said. "Being able to communicate effectively means [law enforcement doesn't] have to use [the] other tools on [their] toolbelt most of the time."
Two days in a row, Ridge took each class period in Thomson's classroom where it was set up with the ASL students on one side of the room as the teachers and the Law students were on the other side as the learners.
"I think it's important because if you are deaf or hard of hearing, [when interacting with law enforcement] you are terrified because you don't know if they can understand you and you [don't really] know how to communicate with people who don't know sign language," junior Andie Lewis said. "So I think it's more important [for law enforcement] to ease their discomfort so [they] get the best out of the situation."
After the initial two days of instruction in the ASL classroom, Thompson also sent a student into the Law classes for two days who would review and answer any questions the students had.
"We did this for law enforcement classes and obviously it will benefit them if they actually go into law enforcement," Ridge said. "But here's the deal, several of my students are working at Chick-fil-A and in places like that you're going to have a hearing-impaired or a deaf person come through and these students now have a little bit more of an edge [when interacting with them.]"
In total, the law classes learned the alphabet and numbers, but also a variety of different phrases relating to law enforcement. These include, "I'm officer [blank]. I stopped you for speeding. I need your license and insurance. Please wait here.", "Can I help you? What is your name? Are you hearing impaired? I know a little sign language and can communicate with you.", "You are getting a ticket, or a warning for: speeding/ wrong right turn/ ran a red light/ no seat belt/ school zone.", and "Do you know how fast you were going?"
"No matter what job or where they're at [they'll] be able to talk to somebody and make it easier for that deaf person to communicate in their daily lives," Ridge said. "So I think that's kind of cool they'll take it with them and use it regardless if they go into law enforcement or not."
About the Writer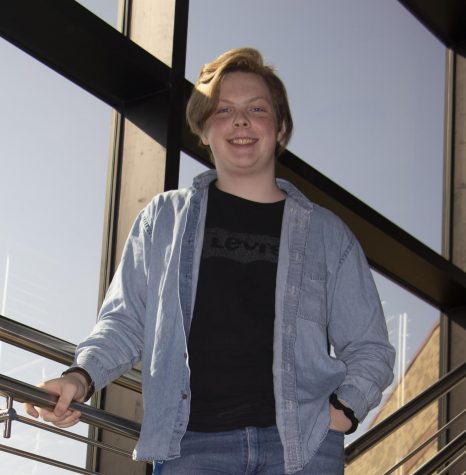 John Park, Managing Editor of News and Feature
John is a senior at Lindale High School and a third year member and editor for the Eagle Eye staff. John enjoys spending most of his time playing the drums...