Art Students to Compete in Upcoming Competitions
The art department has recently entered students in multiple art contests that go on throughout the year.       
The US Congressional Contest is hosted by Louie Gohmerts' Office as a national competition. December 5 is when the winning pieces were announced and will also be part of a year long exhibition in the US Capitol Building.
    "Normally, I think that competitions are a great way for students to improve their skills and gain valuable experience and feedback, and the competition process is a great way for them to get started in a fairly constant competitive world," art teacher Rebecca Harrison said. "This year however, I really feel it encourages students to preserve and move forward through adversity and challenge."
     Junior Courtney Gregory and Jocelyn Castillo have been selected to compete in this competition. Only two students per school are permitted to advance.
     "A world without art or creation isn't a world at all. Every aspect of the world we live in is art," Gregory said. "Even simple things like the formation of hills and valleys is the Earth's own unique form of art."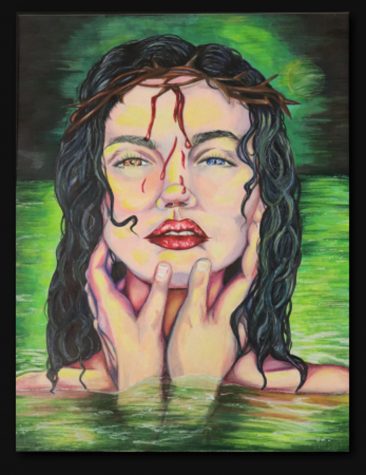 The Academic Rodeo Art Contest is hosted by the East Texas Fair Academic Rodeo as part of a regional competition. As only two students per grade are allowed, freshman Julia Montgomery, sophomores Jocelyn Castillo and Mariana Martinez, juniors Courtney Gregory and Kassie Bradshaw and senior Adelaide James will be competing.
     "I am incredibly proud of all my students, especially those that in this trying time, persevere to compete and display their work for others," Harrison said. "My students work diligently and continually to master new skills and demonstrate their abilities in their artwork."
     In February, the top three winning pieces per campus category will be recognized. From here, these students are then eligible to apply for scholarships from Academic Rodeo.
     "Originally, I had started drawing as a coping mechanism," Gregory said. "I simply found comfort in creation, and I fell in love with the concept of giving a purpose to something like a piece of paper."
     The East Texas Academic Rodeo Scientific Illustrations Contest is hosted by the East Texas Fair Academic Rodeo in a regional competition, and the top three winning places are also eligible to apply for scholarships from Academic Rodeo. Six students are able to compete from each school, which are junior Courtney Gregory, sophomore Mariana Martinez and freshman Julia Montgomery.
     "Students that compete in competitions benefit in many ways but far more than the awards and acknowledgements, they receive confidence and self assurance in their artistry and life," Harrison said. "They suffer disappointment and revel in success; they also gain an understanding of the way the world of art works."