Lindale Floral sell t-shirts as fundraiser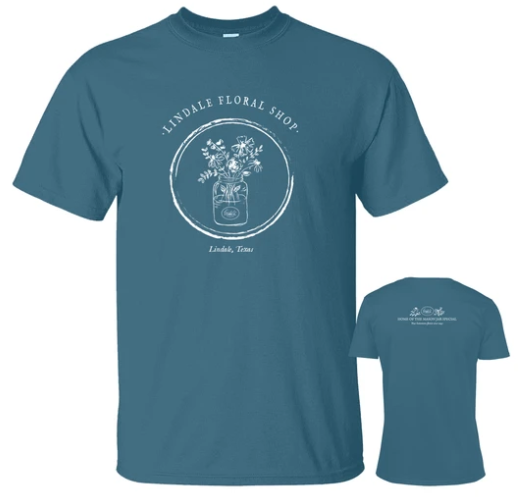 Lindale Floral has designed t-shirts as a fundraiser for the floral design class. The fundraiser is a way to give back to the class and raise money for the students to be able to fully learn the art of floral design.
     "This month is actually customer appreciation and community give-back month," owner of Lindale Floral, Jennifer Darr said. "We thought it would be a great way to give back. We could sell Lindale Floral shirts and give them to a good cause. The shirts should be here in like the next two weeks but you can actually purchase them right now off of our Facebook."   
     The staff at Lindale Floral came up with the t-shirt sales idea and design and are selling them for $15 on their website at https://lindale-floral-shop.myshopify.com/. All their profits go towards the floral design class to provide supplies.
     "This is a great way for us to help out with the school because that's something that we really love to do," manager Shay Jacobs said. "Last year we started reaching out to Mr. Morris, the floral design teacher, and we just started doing little projects together. I'm super excited to be able to team up with them again this year and do everything we can to help them out."
     The Lindale Floral business and the floral design class have worked together in the past on fundraisers. Now, they are working together once again to raise money for the class's future success.
     "During the time of 'Petal It Forward,' we found out that [the class] didn't have money to purchase actual fresh stems," Darr said. "There's just not enough money there for them to be able to actually learn the art of design."
    The Lindale Floral team decided to do the project on a whim, with good intentions for the class and the art of floral design. So, with the incentive of future growth, Lindale Floral will be giving the money to teach the students.
    "Lindale Floral has been an awesome partner company," floral design teacher Cleveland Morris said. 
     The shirts ordered will directly benefit the floral design class, as a generous way to give back for all the class has done for Lindale Floral. Blooming relations between the two florist groups strengthen the art of floral design in Lindale.
     "I know coronavirus has kind of stopped us from being able to do a lot of in-person things," Jacobs said. "But just know that Mr. Morris and we are working behind the scenes to make sure that this year is going to be just as awesome as last year, if not even better.