New Mascot Takes the Field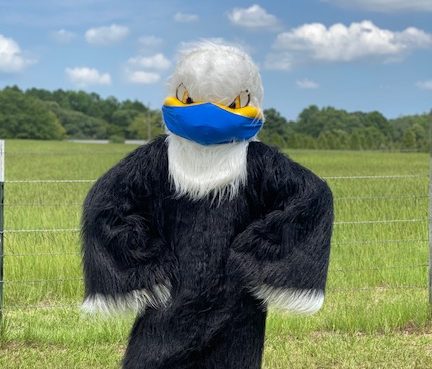 Zach Jones, Assistant Editor of Sports and Copy
September 3, 2020
Lindale debuted the new school mascot at the away game vs. Kaufman last Friday. Blu the Eagle, represented by sophomore Savannah Warrington, will now be seen on and off the field,  across social media, and at games and school events.
"Blu the Eagle is lean, mean, and full of energy this year," cheer sponsor Christy Bateman said. "He is concerned with everyone's safety and chooses to "mask up" in order to stay healthy and be available at all Football games to rally his favorite team to victory."
Warrington tried out for the mascot this spring. She was asked to choreograph her own skit or routine to music and express her school spirit.
"They must be able to express themselves in a unique way that engages the crowd, tells a story, and entertains while not saying a word," Bateman said.
Blu now wears a mask as a result of the pandemic along with many more changes to his design that students will see at the upcoming sports events.
"Blu the Eagle is up for any and all challenges during this pandemic," Bateman said. "You will just have to wait and see what he adds to his appearance, but I will tell you that he has many wardrobe choices to choose from in his Eagle closet."
Among Blu's many changes is a social media account that you can find on Instagram under @blu_the_eagle_.
"I found myself being the center of attention, which is something I have never been," Warrington said. "From the moment I did my first cartwheel to the moment I was taking my last picture it was amazing as I knew that Blu the Eagle is exactly who I was meant to be."