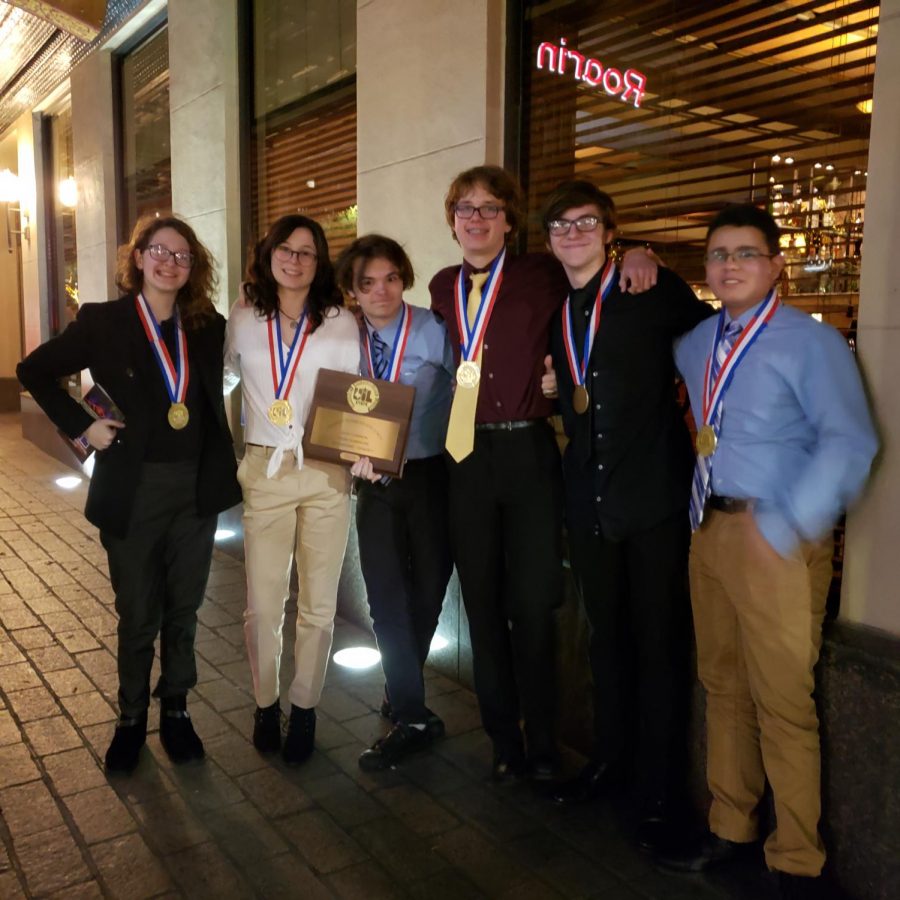 Neda Morrow
EagleVision film students were recently named state champions at the UIL Young Filmmakers State Contest in the documentary film category.  They also placed fifth for a second documentary out of the hundreds of films submitted. The award ceremony was held at the Paramount Theater in Austin on February 25.
"They produced two films this year including one called "Miniature Blessings" over how our life skills works with  community-based instruction at Nancy and Don Walters' miniature horse farm," EagleVision sponsor Neda Morrow said. "The second one over YWAM is about how missionaries are trained and about their lives and work."
Films are judged in two divisions:  Division 1 is for films in 1A through 4A. Films created by students at 5A and 6A schools, which includes LHS,  are part of Division 2.  The categories for filmmaking include  animation, documentary, and narrative.
"This is a huge moment for the Lindale AV Team. This is the first time we placed in a very high ranking," senior Eagle Vision member Jude Ratcliff said. "It really put us on the board, and I can only see good things for the EagleVision."
The students spent hundreds of hours after school to perfect their films. The process building up to the state level required working with technology and a lot of constructive criticism and time.
 "It took determination and hard work to get where we did," junior Braulio Navarro said. "I feel that staying after school and working overtime paid off."
Placing at state means that they have a proven set of skills in a variety of technology-based areas, from filming to editing in Adobe Premiere.  Students went on location to film the documentaries, and they worked in class on editing the films as a group.
"They are basically building an actual portfolio that they can take with them," Morrow said. "This is a resume building situation, and it means that they can use technology at a level that other people can't, and that gives them an advantage in the workforce."
EagleVision members are already brainstorming ideas for next year and hope to not only make quality documentaries, but improve in narrative filmmaking as well.
"It was almost surreal to win first out of so many films," sophomore Miles Hill said.  "I am excited to see how we can learn and improve from this experience and do even better next year."

To watch the state champion film, go to the Eagle Eye online site at LHSEagle-Eye.com and click on Media and 'Miniature Blessings.'