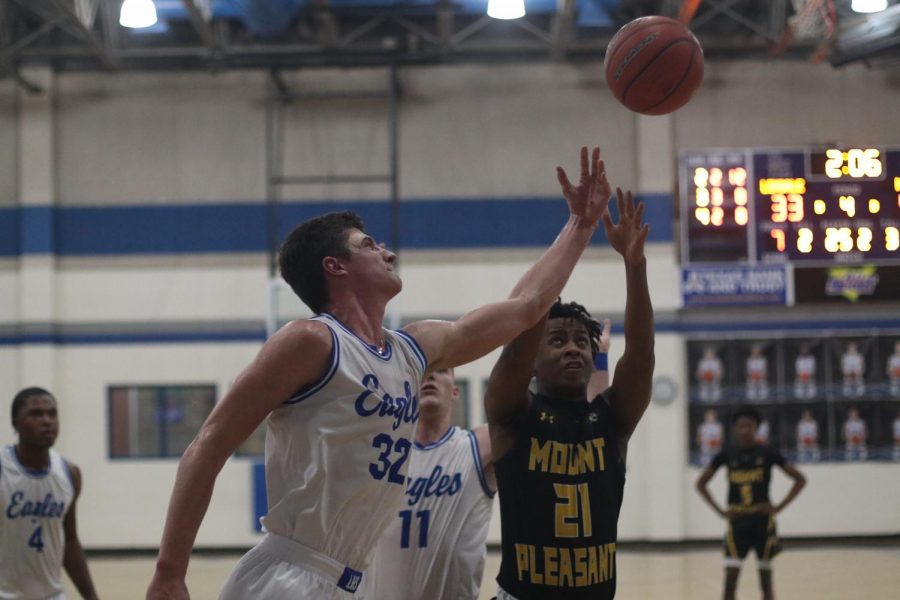 Kevin Willis
The varsity boys' basketball team will play Nacogdoches at 6 p.m. Tuesday at LeTourneau University for the first round of the playoffs. In addition, the admission fee will be covered for any student who opts to ride the fan bus to the game  in support of the team.
"The playoffs, in a way, are a culmination of many, many months of hard work by our players and coaches," head coach Christopher Grotemat said. "It's such an honor to be in a tournament along with the best teams in 5A, and the pressure is a privilege of being part of something that is important!"
After beating formerly state-ranked Greenville 65-60 on February 11, the team had a chance to advance to the playoffs. We had officially secured a playoff spot after Greenville fell to Texas High on Valentine's Day.
"I am incredibly proud of our team," Grotemat said. "We have battled through a series of tough injuries, we compete in one of the toughest districts in all of Class 5A, and we only had a handful of players on this year's team with prior varsity experience. Through it all, our guys showed great faith and stuck together."
The team is preparing for the upcoming match-up much as they have the rest of the season. The players typically practice their plays and watch film to learn how to play against their upcoming opponent.
"Even though there is a lot of attention surrounding the playoffs, it is important for us to take a 'business as usual' approach," Grotemat said. "We have practiced, lifted weights, and watched game film on our opponent in the same manner that we did throughout the regular season."
The team placed fourth in district play with a 4-6 record. It's overall record was 17-14 for the season.
"We feel good about [the game], and we also feel that we can win this one and probably the second one," senior Kobe Scott said. "We think we can make a pretty deep playoff run so we feel good about this playoff. We feel confident in this win."
Any student wanting to attend the game can sign up to ride the fan bus in the office. The admission fee will be covered for these students.
"It's an early game, but we need an enormous turnout," Grotemat said. "We are paying the admission fee for every student who rides the fan bus. Our kids feed off the energy of the Lindale crowd, so we need  a big, blue turnout [Tuesday] night!"
Update: The team fell to Nacogdoches 46-51 Tuesday to end their season.