Lindale's Drop to 4A Fuels Speculation
The University Interscholastic League (UIL) released the conference realignments Monday, which will be in place from August 2020 until May 2022. Lindale will drop from 5A to 4A with the adjustments.
"I'm excited about it," Principal Jeremy Chilek said. "I feel like it levels the playing field for us, [and] gives us a better chance of allowing us to be more successful and our programs to be more successful."
Lindale will be District 9-II (Region 3) in football. The other schools in the district are Athens, Henderson, Kilgore, Mabank, Palestine and Tyler Chapel Hill. 
"I believe our fan base will likely increase because our opponents will be closer," athletic director Mike Maddox said. "It should also bring out people who may not live in district but want to attend good ballgames between good teams that are closer in distance."
All other sports will be a part of Region 2, District 16. This district is made of Bullard, Cumberland Academy, Henderson, Kilgore, Longview Spring Hill and Tyler Chapel Hill, along with us.
"[Conference] 4A produces some of the best teams in the state regardless of classification,"  Maddox said. "When you look around the Tyler area in [4A], regardless of the sport you will find deep playoff runs as well as State Championships. We are excited to be a part of it."
The band will now be competing in conference 4A at all of their events, excluding solo and ensemble because students, or groups of students, compete against themselves instead of competing against other students.  Lindale is one of the largest 4A schools in the state.
"It is nice to be the big fish in the little pond," head band director Steven Moore said. "In class 5A, we are considered one of the groups that could get to state, in 4A we would be considered a group that could win. With that being said, we must continue to work as hard as we always have and take nothing for granted.  A smaller classification does not mean easier competition."
In UIL speech and debate and academics, the district corresponds to the main sports district, not the one for football. Speech and debate coach Rory McKenzie does not necessarily feel like the classification shift will affect the speaking events much.
"I think that ultimately, this doesn't change a lot," speech and debate coach Rory McKenzie said. "Going 'down' a size, doesn't mean that we can sit back and good results will happen for us. We'll still have to go out each day in practice and each tournament in preparation to make sure we are competitive for the State Championship."
In class 5A, the district won the state championship twice, despite being the smallest school in that classification. This change will bring new competitors that are closer to home.
"I think that it will help level the playing field," UIL journalism coach Neda Morrow said. "For awhile now, we've been the smallest 5A school, and we've had to compete against schools that are much larger. I am excited about the change because it allows us to compete against all new people."
The numbers for the new UIL 4A class are 515 students up to 1229 students, and is based on the enrollment at the high school. Our high school had 1203 students at the time numbers were reported.
"I think our programs are really strong," Chilek said. "I think this move to 4A is going to help [to] even make those stronger athletically, and then academically we've had such a great tradition here whether we're in 4A or 5A. In talking to everyone that is associated with academics and the aspect of UIL, we feel that we're going to be even stronger next year in that aspect and hopefully that translates to more students being successful at the region and state levels, and us being able to have even more of a spotlight on our district and our high school."
About the Writer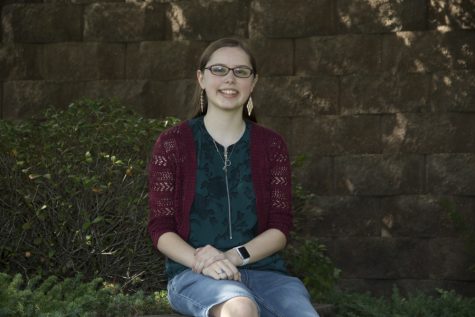 Colleen Starkey, Editor-in-Chief
Colleen is a senior at Lindale High School and is the Editor-in-Chief and sports editor for the Eagle Eye staff. Colleen is involved in UIL, band and is...