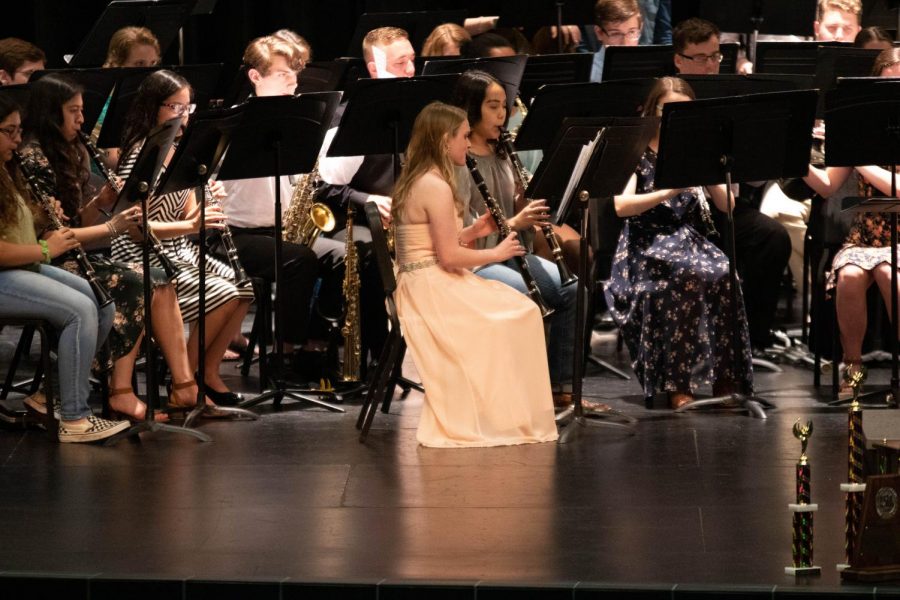 Photo by Scott Starkey
During the band's spring concert, the class of 2019 commissioned a march called 'Eagle Spirit March' composed by junior high director, Bene Davis. The seniors commissioned the march to leave behind as their senior legacy.
"It is without a doubt the best thing the seniors have ever done," director  Steven Moore said. " First, it is the gift of music and second, it was written by one of our own directors, Mr. Davis, and conducted by one of our own students, Hayden Nicholson."
"," 
The seniors and drum majors Hayden Nicholson, Carrie Weaver and Haylie Horton gathered with junior high directors, and got Davis to write a march for the band directors. The Wind Ensemble band and the seniors gathered on stage to perform it for them.
"The idea of commissioning a march came up," Nicholson said. "I knew immediately that is what we had to do. "
Davis agreed to compose the march for them to perform. Afterwards, Nicholson scheduled times  at the Junior High wherein the Wind Ensemble could perform in attempt to keep it secret to surprise the high school band directors.
"I contacted Mr. Davis and the entire band," Nicholson said. "They undoubtedly were on board with the idea."
After practicing three times, first with Davis substituting during first period when Moore was out and another time after school at the junior high, the wind ensemble and seniors played the piece on stage with Nicholson conducting the band.
"I was one proud papa watching and listening to this march," Moore said.   "I will never forget it."