Theatre Releases Upcoming Cast Lists
The theatre department released the cast lists for the first two shows of next year and the list for their auditioned class.
The theatre department released the cast lists for the fall shows for next year as well as the theatre productions class list on Wednesday. The directors chose to produce Picnic as a mainstage performance and Over the River and Through the Woods as a black box production.  
"We chose two productions to give students a chance to really develop characters," director Kari McKenzie said. "We are excited to see how the kids grow throughout the season."
This is the second year for the department to focus on two fall shows, with an additional musical before the One Act Play competition begins. The directors are working on both shows together, however, which is a difference from last year's separated productions.
"We prefer working together," director Taylor Jarman said. "We work well together, and bounce ideas and visions off of each other, which leads to an awesome show."
The two plays are both dramatic with comedic elements involved. They will not go up at the same time, yet the order of shows has not been determined.
"I am ready to see what next year holds" sophomore Alex Gaba said. "There will be challenges, but it'll be worth it for the memories we create."
Cast Lists:
Picnic (Mainstage)
Kaleb Cole: Bomber
Haley Bass: Rosemary Sydney
Krissy Dearing: Christine Schoenwalder
Cameron Hilliard: Flo Owens
Kailee Huston: Irma Kron
Thinh Nguyen: Alan Seymour
Sarah Richardson: Helen Potts
Emma Routt: Millie Owens
Alli Somes: Madge Owens
Kevin Willis: Hal Carter
Tiago Wittenberg: Howard Bevans
Technicians:
Kaylea Clay: Stage Manager
Hannah Boyer
Nalany Hernandez
Jaret Allen: Understudy
Over the River and Through the Woods (Blackbox):
Emma Cook: Emma Cristano
Alex Gaba: Nick Cristano
Kayleigh Horstkamp: Caitlin O'Hare
Halle Lambert: Aida Gianelli
Vuong Nguyen: Frank Gianelli
Josh Smith: Nunzio Cristano
Technicians:
Zach Jones: Stage Manager
Caleb Lawrence
Savannah Lillich
Lathan Jones
Theatre Productions Class:
Jaret Allen
Haley Bass
Hannah Boyer
Kaylea Clay
Kaleb Cole
Emma Cook
Krissy Dearing
Alex Gaba
Cameron Hilliard
Nalany Hernandez
Kayleigh Horstkamp
Kailee Huston
Lathan Jones
Zach Jones
Halle Lambert
Caleb Lawrence
Savannah Lillich
Thinh Nguyen
Vuong Nguyen
Sarah Richardson
Emma Routt
Josh Smith
Alli Somes
Kevin Willis
Tiago Wittenberg
About the Writer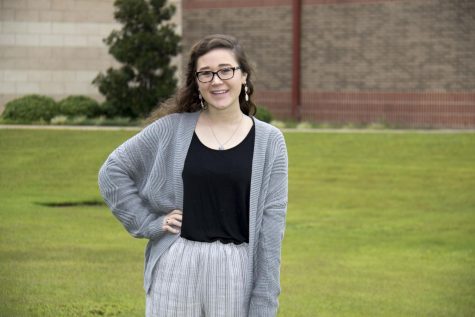 Annie Evans, Managing Editor
Annie is a senior at Lindale High School and the Managing Editor for the Eagle Eye staff. Outside of newspaper, she is a stage manager for the theatre...