AP United States History Class Attends Lecture
AP United States history students attended a lecture by American journalist Dan Rather at the Cowan Center on March 16th. History teacher Renee Ramsey received the tickets through a Boylan grant.
"I thought that it would be a great experience for the kids to hear somebody who has witnessed history," Ramsey said. "He talked about how our country has changed over his [over] 60 years as a broadcaster."
Twenty students went to the lecture along with adult sponsors. Through different stories, Rather presented an unbiased viewpoint of history of the country.
"I think that everybody enjoyed it because he has been to many places and seen many things," Ramsey said. "He told us about when he got started in the business and different people he interviewed. He was very open to all kinds of views."
Students from the class gained knowledge and history of Rather's life as a journalist. They were informed of changes in the media throughout many years.
"I had a proper and well-informed insight to the journalist's life and upcoming through stories and reasoning," junior Wesly Watkins said. "I would absolutely have paid for the tickets if I had foresight to how impressive the experience was going to be."
"
I think that everybody enjoyed it because he has been to many places and seen many things"
— Renee Rasmey
Many of the concepts correlated to the history class. The trip was intended as an educational opportunity to view history in a different way.
"The Texas history in the lecture is well tied to the concepts we are learning about now," Watkins said. "I enjoyed his vivid stories about his past which were realistic and believable."
About the Contributor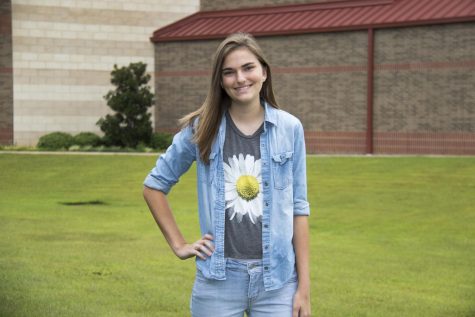 Kaitlyn Barrington, Managing Editor
Kaitlyn is a senior at Lindale High School and the Managing Editor for the Eagle Eye staff. Kaitlyn is also a member of Key Club, National Honors Society...