Lindale Makes it to Football Playoffs
The football team has made it to the playoffs for the first time since 2015.  On November 9th they won a hard-fought game against Jacksonville 36-34, and they are scheduled to play in the first playoff round against Montgomery on November 16.
"We're excited about the opportunity," football coach Chris Cochran said."We challenged our guys a little over a month ago to do something different in Lindale, Texas that hadn't been done before. We want to continue to get better and better."
Their progress in previous years was halted by the Jacksonville Indians, a team they have beaten this year to advance in the playoffs. This year, they made it their goal to win against Jacksonville and make it to playoffs.
"Our motto was 'Let's be 1-0 this week against Jacksonville,'" Cochran said. "[We wanted to] take care of business since they ruined our senior night last year."
Despite the pressure of the event, the team has kept the same schedule and practice days they undergo for any other game. Their focus is building teamwork and remaining humble throughout their prosperity.
"Our main deal right now is to be ourselves despite the success we've been having," quarterback Dillon Heinaman said. "Obviously there's a lot more pressure because it's a playoff game, but we're just trying to be ourselves and prepare how we usually do."
Many businesses around Lindale are sporting Lindale colors as well, with many signs and boards reading off praises and encouragement for the football team to do well in playoffs.
"[The players are] a laid-back group," Cochran said."I think they're excited about it. They're still working hard. The goal right now is to not be complacent with the success they've had. Every single day they're practicing as hard as they can, and we're getting a lot out of them. They're excited to have the opportunity to be on the 2018 Lindale High School football team."
Update: The Eagles beat Montgomery 52-38 Friday night to advance to the second round of the playoffs. For the Area game, the team will play Port Neches-Groves at NRG Stadium in Houston on Friday at 8 pm.
Leave a Comment
About the Contributor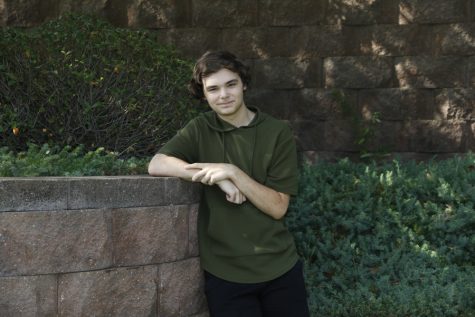 Jude Ratcliff, Managing Editor
Jude is a senior at Lindale High School and a third year student on the Lindale Eagle Eye staff, which he is the managing editor for. He hopes to attend...