Students in Advanced Audio/Visual Class Partner With Theater to Create Films
The advanced audio visual class will be producing both documentary and narrative films to be submitted to the University Interscholastic League and Interscholastic League Press Conference competitions in January.  The group partnered with the theater classes in a cross-curricular endeavor in order to maximize the skillsets of each program.
"My favorite part about being the sponsoring director of the film crew is that I'm able to see students put real educational learning into practice in the field," audio visual instructor Neda Morrow said. "I love watching students work hard to achieve their creative vision and to put the skills they've learned in the film production classes to use."  
Students in the AV class chose to create a documentary film over the Tiger Creek Animal Sanctuary which will focus on the impact the organization has on the community and in the lives of the animals they keep in their facility. The film crew gathered footage of the sanctuary Oct. 23-24 and are currently in the editing process.
"I enjoyed telling the story of Tiger Creek and capturing it on video," senior Bailey Spencer said. "I was an amazing bonding experience between me and my friends on the crew."
In addition to the documentary, the crew is working on an abstract, narrative film which partners with students in the theater classes. The story was written and performed by theater students, and the film describes the life of an intoxicated man whose life choices affect his relationships.
"The narrative film was something abstract that was interesting to film," senior Kaylee Rodriquez said. "I got to shoot some angles that I normally wouldn't get to for any other project, plus I got to spend time with my friends in theater."
Advanced audio visual acquaints students with real world experience in video filming, directing and editing. They use industry standard Adobe Premiere software to edit all their films and utilize current level photography and videography equipment to shoot films.
"The film crew was a blast to work with," theatre director Taylor Jarman said. "I really enjoyed working with this group of students, and we couldn't have made this film without their help."
Leave a Comment
About the Contributor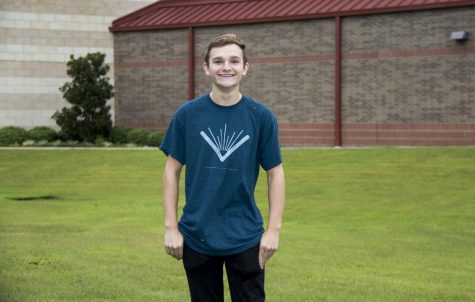 Carter Colvin, Photo Editor
Carter is a senior at Lindale High School and the Photography Editor for the Eagle Eye staff. He is a member of the LHS choir, National Honors Society...