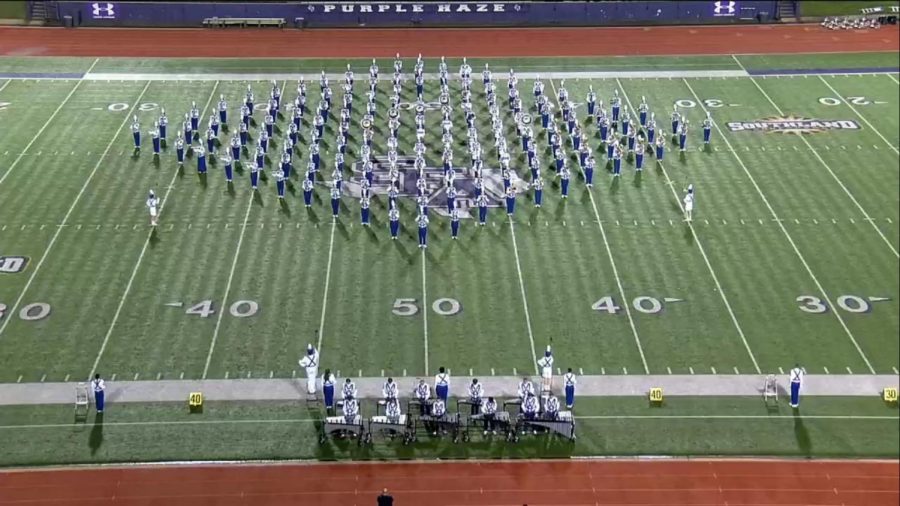 Photo by Steven Moore
     The band recently competed at the Region 21 UIL Marching Contest, October 20, and competed at the National Association of Military Marching Bands (or NAMMB) contest, November 3. They received a first division at UIL, and both a first division and a first place in 5A at NAMMB.
     "I am extremely proud of this group of students," director Steven Moore said. "We are young and had a lot of work to do but the students really worked hard and pulled off a performance that we are all very proud of."
     This is the forty-fourth consecutive year for the band to receive a first division rating at the UIL contest. This is also the third year for the band to place at NAMMB out of the rest of the 5A bands.
     "I have loved watching the band dig deep to improve as much as they could in preparation for UIL," band director Weston Fisher said. "I am so proud of the band's hard work and commitment they showed in order to earn their forty-fourth consecutive first division rating at the UIL marching contest."
     The band has been practicing since late June for both of these performances, practicing both during and after school. The band competed directly against five other 5A bands; Jacksonville, John Tyler, Lufkin, Nacogdoches and Whitehouse.
     "I was honestly really nervous whenever we finished our performance," sophomore Chloe Harbuck said. "Then when they finally called our rating it was like a sigh of relief that we got our forty-fourth."
     Both the UIL and the NAMMB competition were held at the Stephen F. Austin stadium this year.