Making Art Out of Metal
Senior Owns Blacksmithing Business
He hammers the mendable metal against the smooth, solid anvil. After taking one final swing, he takes a sharp look at the tip of his blade to make sure the edges are aligned and the middle is even. With a smile on his face, senior Brady Smith carefully sets aside his masterpiece to let it cool before shipping it to his next customer.
Smith started a business last year selling his forged items on the e-commerce site Etsy. He creates all items by hand in his own blacksmithing forge and sells products ranging from jewelry to knives and swords.
"I enjoy what I do because I can create something useful from something that seems useless," Smith says. "I can take a small chunk of metal and a piece of wood and combine it into a beautiful piece of art that anyone can make practical."
During the summer before his sophomore year, Smith and his step-brother Josh Moore began watching the television show 'Forged in Fire', which is a televised competition between modern day blacksmiths. Watching the show inspired Smith to set up his own forge (workshop) at his house to begin blacksmithing himself.
"When I saw the show, I was like, 'Wow you can really do that,'" Smith said. "I knew it was a thing, but I always thought that it was something of the past. I never realized that people were still doing that today."
Smith learned his craft through watching 'Forged in Fire' and YouTube tutorial videos that demonstrate blacksmithing skills. It took Smith close to a year of trial and error to be able to create the products which he makes today, but his hard work led him to being able to sell these items to customers all over the world.
"The bracelet I bought from Brady was well made," senior Brina Kuslak said. "I got it for my boyfriend, and the point of it was to indicate our relationship. I had to buy something on a budget, and buying it from a friend who could make one himself seemed like a perfect idea."
Smith did not originally plan to sell his items for profit when he began because he enjoyed the activity as a pastime . As his skills improved, however, he realized that he could turn his hobby into a business venture to bring in extra profit.
"I'm so proud of him for working hard at learning these skills over the past couple years," step-mother Rhonda Smith said. "It's really incredible what he and his brother can make out of simple materials like wood and metal."
When Smith is older, he plans to go into the construction business to become a construction manager. The skills Smith has acquired through working with saws, forges and other wood and metal work will help him with future opportunities.
"I think that these skills that I am learning now will definitely help me with some challenges that I might face in an occupation in the construction field," Smith said. "Making all these materials through blacksmithing I'm sure will help me in whatever job I have later on in life."
Leave a Comment
About the Contributor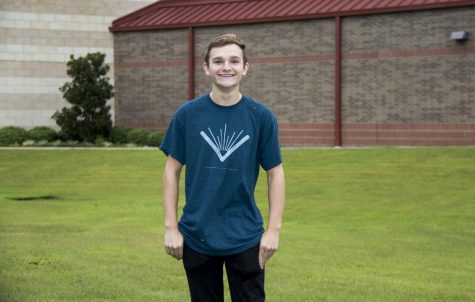 Carter Colvin, Photo Editor
Carter is a senior at Lindale High School and the Photography Editor for the Eagle Eye staff. He is a member of the LHS choir, National Honors Society...