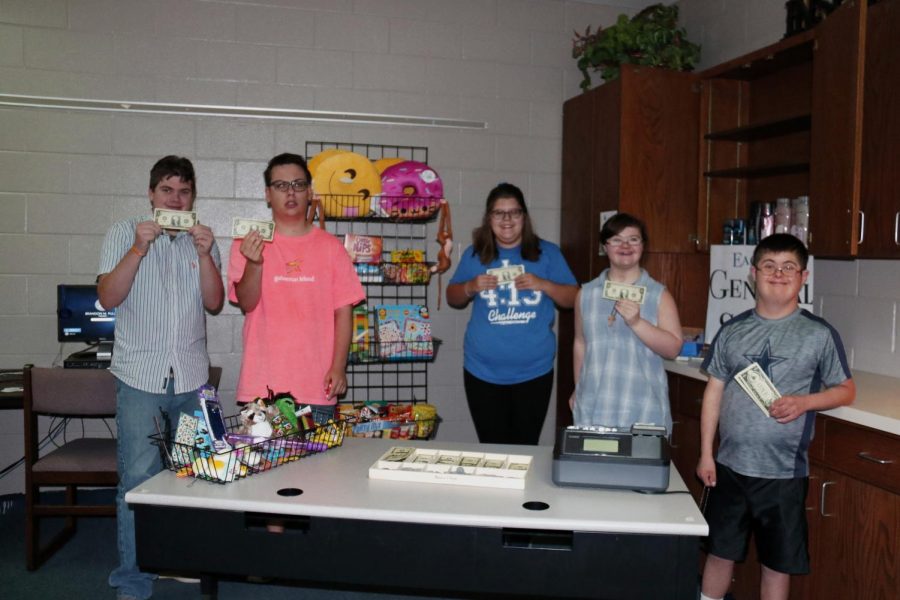 Neda Morrow
Recently, the Life Skills classes opened a general store in one of their classrooms. This acts as an opportunity for the students to work on customer service skills, money-counting skills and confidence. It is also seen as a form of "paycheck" for their time working in the community.
   "When I started working with life skills last year, I realized how hard they worked in the community,"  instructor Lauren Backer said. "I decided this year, I wanted them to start associating work with reward."
   During the week, the students work for the community and receive play-money paychecks, which they can spend in the store. The general store consists of necessities like soap, lotions,  and food as well as pleasure items such as toys, pillows and crafts.
"We sometimes work at Petty's and Hideaway Lake rolling silverware, as well as bagging groceries or stocking shelves at Brookshire's," Backer said. "We also volunteer at the food pantry and water flowers at the garden center. This helps us as teachers see where the students work best and where they'll be most successful."
       Backer and other instructors applied for a grant from the Lindale Education Foundation and it got approved, which then funded the general store. The store will continued to be funded by the income received by the Life Skills Coffee Cart as well as the laundry business they have started.
    "The goal of this is to teach the life skills students that the money they make is made to be spent on their needs as well as pleasure items," Backer said. "When these students go out in the real world and start their independent jobs, they will need to know how to prioritize their spending."