Students Serve at Hope Haven Gala
On Saturday, Lindale students volunteered to set up and serve at the Hope Haven Gala. The event was the main fundraiser for the year.
"I am blown away by the community here," founder and board member of Hope Haven Lisa Ferguson said. "We couldn't have done it [without volunteers]. This year, it has been really amazing to see all of the help."
The gala benefitted girls who live at Hope Haven, a home for girls who have been in the foster care symptom. These teenagers, ages thirteen to seventeen, attend Lindale school district.
"Volunteering makes you feel good about yourself," sophomore Emily Huber said. "You become a better person through it."
Key Club, Interact Club, National Honor Society and Student Council were all represented by the volunteers. Over ten hours of the day were spent working.
"By volunteering, you can touch the hearts of others very easily," sophomore Hope Nelms said. "If one person can touch the heart of another, imagine what everyone could do together."
Students either worked a morning shift setting up tables and decorating or an evening shift. The second required serving members as a waiter/waitress.
"It's important to volunteer because it teaches you to put others before yourself," sophomore Abby Payne said. "I volunteer every week at my church and through Student Council."
"
I am blown away by the community here in Lindale."
— Lisa Ferguson
The gala is Hope Haven's main event to bring in money for the year. Gala attendees could choose between packages that ranged from $75 for a single person or up to $5000 for multiple guests.
"I thought that the [opportunity] sounded like a lot of fun," sophomore Scarlett Malcolm said. "You need to help your community and get out and help other people."
To donate to Hope Haven, visit: http://hhofet.org
Leave a Comment
About the Writer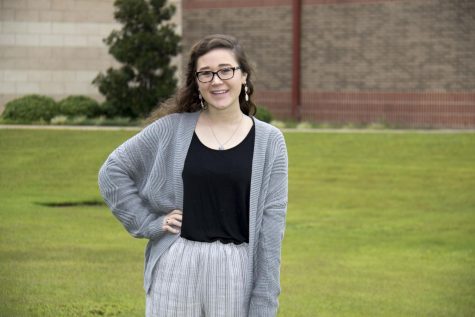 Annie Evans, Managing Editor
Annie is a senior at Lindale High School and the Managing Editor for the Eagle Eye staff. Outside of newspaper, she is a stage manager for the theatre...